Whether you've seen it in pictures or have taken a holiday there, most people agree that the Maldives is nothing short of paradise on earth. The 1192-island archipelago is actually the flattest country in the world and covers an area of 300 square kilometers in the Indian Ocean. 
Forever in the news for its ornate private resorts, the island nation offers the very best in luxury lifestyle. However, overwater bungalows with slides, restaurants serving gourmet meals cooked by Michelin-starred chefs, and awe-inspiring natural beauty are only some of its charms.
The most mesmerizing attractions in the Maldives are, in fact, found below the water. These must-have once-in-a-lifetime encounters guarantee extraordinary experiences for everyone, from gourmands and spa fanatics to adventure-seekers and families.
Underwater Restaurants
The first country to have an underwater restaurant, the Maldives now has six. Ithaa in Conrad Maldives Rangali Island, though, is noteworthy for starting the trend. The 14-seater dome-shaped intimate dining space, located 5 meters below water, is famous for its fusion food and excellent wine pairing. Of course, the view of the colorful reef teeming with a variety of fish is quite simply out of this world. 
5.8 Undersea in Hurawalhi, on the other hand, is the largest all-glass underwater restaurant in the Maldives. It can accommodate 20 guests and entices food lovers with a delectable 7-course tasting menu. Similarly, SEA, M6m, and H2O are exclusive destinations in their own rights, where food, décor, and the scenes outside merge to create an unforgettable culinary affair. 
A special mention goes to SubSix, the "world's first underwater nightclub." Accessible by speedboat, the restaurant does have a lunch and dinner service. However, it is renowned for its clam-inspired bar, Champagne breakfasts, lavish décor that includes spectacular Italian chandeliers, and the unmissable underwater glow parties.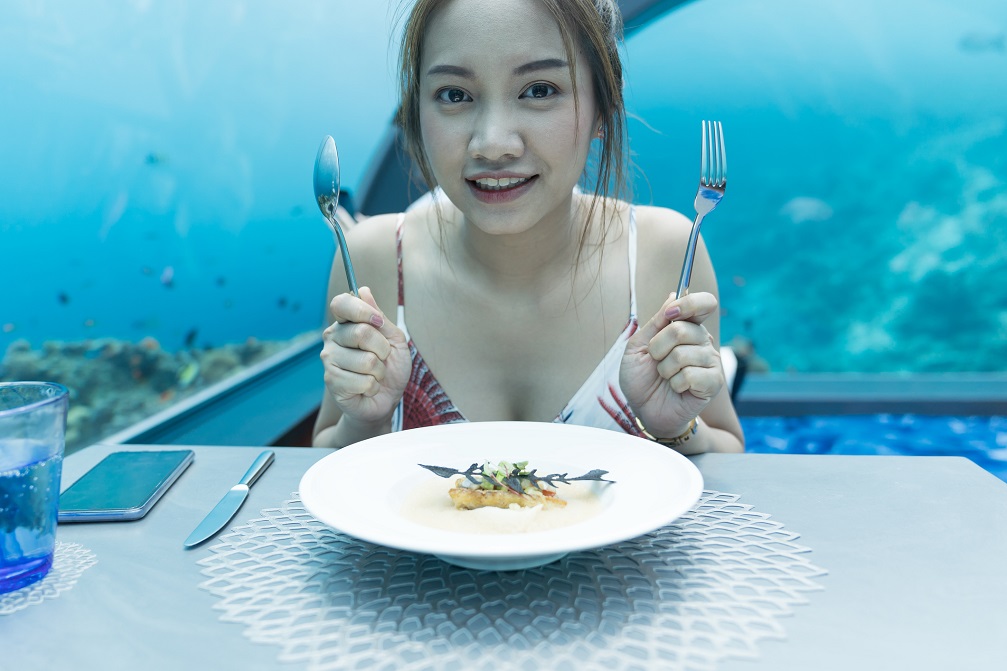 Underwater Spa
Speaking of elite attractions in the Maldives, you'll have to travel to Huvafen Fushi to relish the allure of the world's first and so far, only underwater spa.
Taking up space above and below the ocean, the spa's highlight is its treatment rooms at a depth of 8 meters. A unique area with soothing white interiors, futuristic design elements, mood lighting, and calming aquatic views, the ambiance here has an almost nirvanic aura. 
While several treatments are available for guests, the signature 60, 90, and 120-minute underwater therapy is a must. It includes a mix of reflexology, shiatsu, breathing exercises, and facial massages.
If staying above water, guests can receive their treatments in rooms that not only open to panoramic vistas but also have glass flooring overlooking the reef.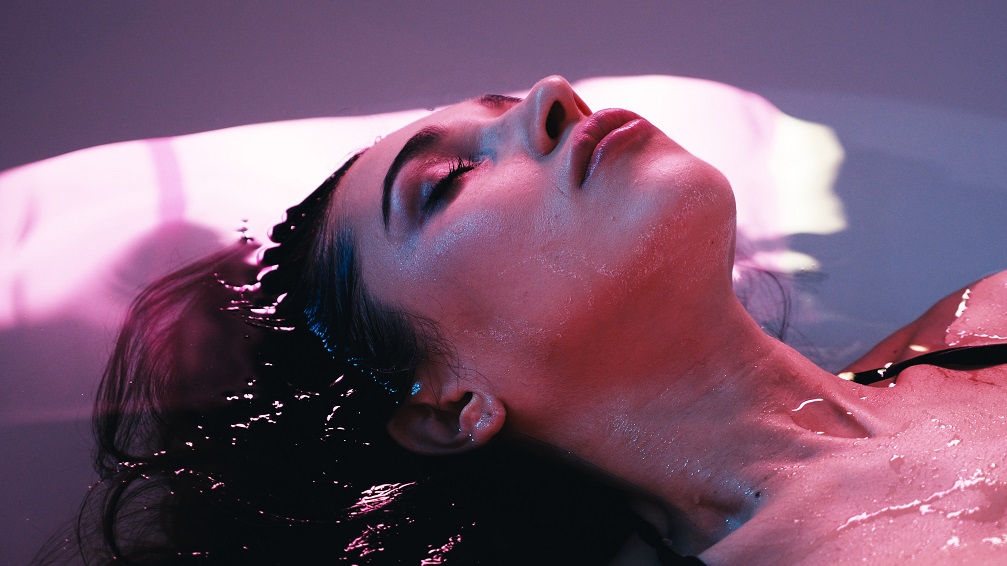 Whale Submarine
A must-do activity that the entire family can enjoy is riding the Whale Submarine. This 45-minute tour of the ocean around Malé is perfect for visitors who cannot swim or don't want to get wet.
Leaving Malé's Presidential Jetty, the air-conditioned submarine can host 50 passengers as it dives down to a depth of 30 meters. The entire trip lasts two hours and includes transfers by boat, English commentary, and a visit to Tear Drop Reef, some 500 meters away from the capital. 
The only submarine of its kind in South East Asia, visitors can choose from four tour timings during the day. The trips at 11:00 and 13:00 are always in demand because that is when underwater visibility is best. Also, it is too hot to do anything else on land at that time. Ticket prices cost around $85 per adult.     
For a romantic experience in the Maldives, book a Deep Sea Restaurant ride. A night-time excursion, this 60-minute submarine ride includes a buffet dinner and the chance to observe nocturnal marine life.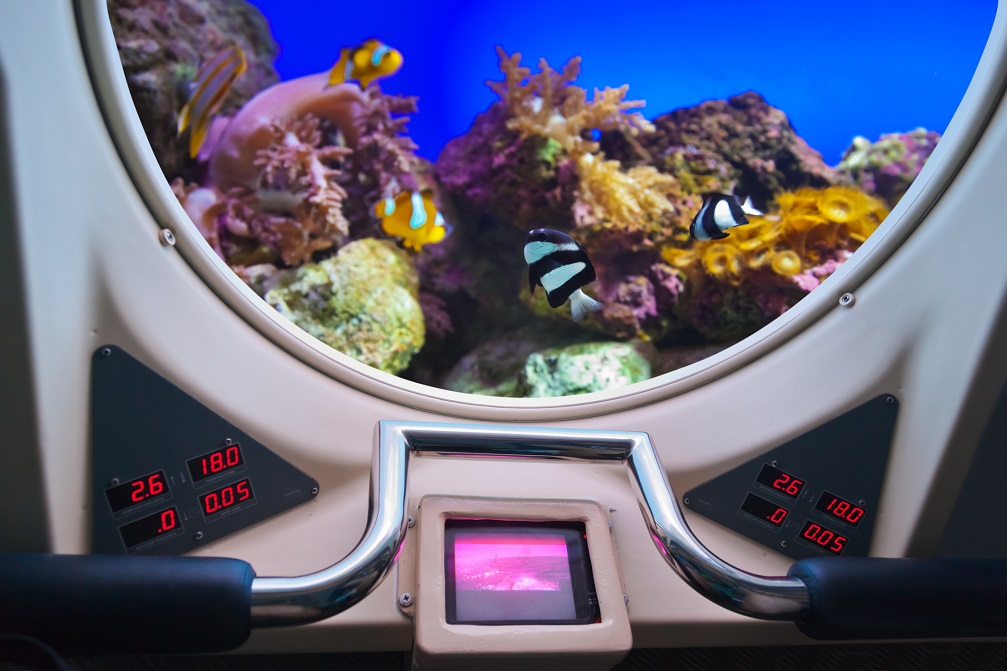 Diving
The Maldives and diving are synonymous. Divers from around the planet have been visiting the archipelago for decades, eager to explore its vibrant underwater life. With time, there has been substantial improvement in the diving infrastructure on the islands. Consequently, it is now possible for both beginners and professionals to partake in multiple diving excursions.
Among the most extraordinary experiences in the Maldives are a wreck, cave, and channel dives. Thrill-seekers often head to Hammerhead Shark Point in Rasdhoo Atoll for a morning dive to see these fascinating creatures in their natural habitat. Vaavu Atoll's Maaya Thila, on the other hand, is famous for its night dives with hundreds of nurse sharks.
Many dive centers in the Maldives offer PADI certification for beginners. However, one escapade reserved for experienced divers is blackwater diving, available only through Kuramathi and Six Senses Laamu resorts at present. Blackwater diving involves plunging into the darkest of open waters to witness "vertical migration" of plankton and critters in a delicately lit-up underwater environment.
Lastly, die-hard divers will be glad to know that the Maldives has several liveaboard vessels floating around the archipelago. These safari boat tours typically last a week. They allow budget and luxury travelers to visit hard-to-reach diving and snorkeling spots, along with the unforgettable adventure of living and eating in the vastness of the Indian Ocean. Week-long liveaboard cruises start from $1000 and go up to $3000 depending on the vessel, accommodation, number of dives per day, and equipment requirements.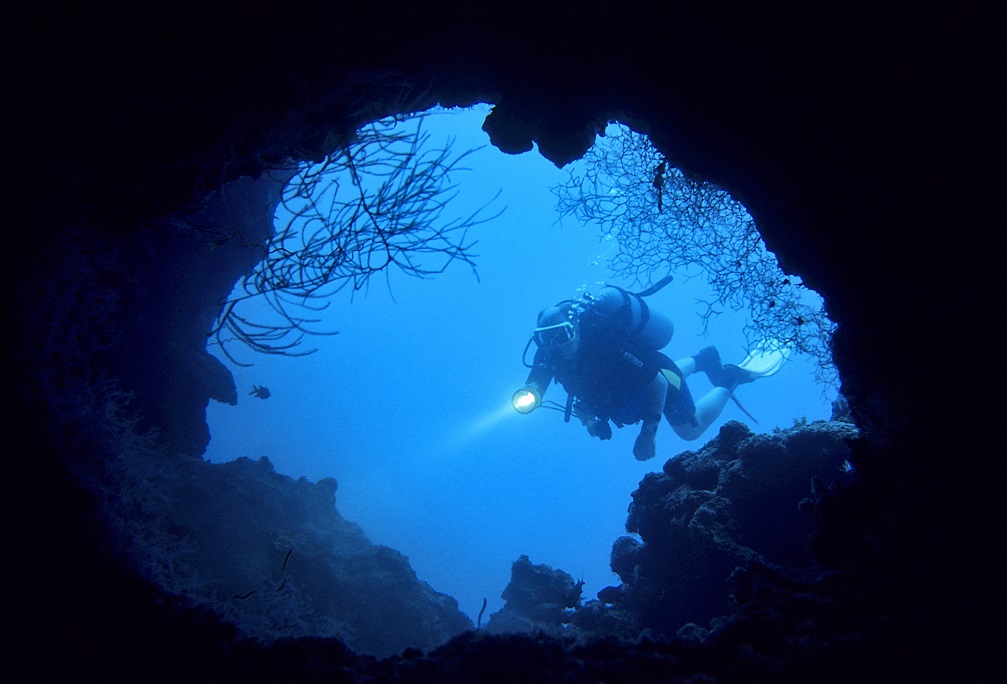 Underwater Villas
Designed by master architect Ahmed Saleem, Muraka is a 6000 square feet 9-person bungalow at the Conrad Maldives. Connected with the main island by a jetty, the residence is a secluded two-level magical kingdom packed with surprises.
Promising one of the most incredible experiences in the Maldives, the bungalow's undersea suite is 17 feet below the surface. It amazes guests with floor-to-ceiling glass windows in the room, bathroom, and walk-in cupboard.    
Facilities at Muraka consist of a private sundeck, infinity pool, chef-on-call, and four butlers. Thankfully, the eye-popping $50,000 per day price tag does include transfers by seaplane.
Muraka, meaning coral in the local Dhivehi language, was the first underwater residence in the world. Since then, Pullman Maldives has opened two Aqua Villas, increasing the total number of underwater bedrooms in the Maldives to three.