Vivid, energetic, and full of life, Miami is the most colorful party town in the USA. A city where cultures converge and nothing seems out of place; it boasts of gorgeous architecture, street art, the best beaches, and an electrifying vibe that leaves visitors in awe of its personality. 
Furthermore, as the culinary hotspot of Florida, Miami is chock-a-block full of excellent restaurants, cafes, and bars. However, businesses in the city need to have certain chutzpah to stand out and draw attention away from all the other glittering highlights and blinding spotlights that engulf every corner of Miami. 
The city's cafe culture, for instance, is brimming with exceptional eateries. Although late to join the international trend of over-the-top themed coffee shops, insta-worthy cafes in Miami are still less flashy and more engaging in their appeal. 
Nevertheless, they promise an authentic cafe experience accentuated by the presence of award-winning baristas, alluring ambiance, and ever-so-often a quirkiness that has all the trademarks to go viral. 
So, if good coffee, a chat, and a casual atmosphere are what you're after, check out these five insta-worthy cafes in Miami during your next holiday. 
Imperial Moto Cafe
Off the tourist trail, Imperial Moto isn't just for motorheads. The quaint bike-themed establishment has been open since 2016 and claims to be the "best coffee shop in Miami." 
Backing its claim is the cafe's menu that consists of several third-wave coffee classics. From drip and nitro cold brew to matcha tea and various smoothies, Moto serves drinks to satiate every possible request. Their nitro hibiscus refresher and turmeric tea with espresso are two unique concoctions, ideal for experimental epicures.
Making Imperial Moto one of the most insta-worthy cafes in Miami are its interiors. The cafe has several vintage motorcycles on display. The leather sofas and sleek industrial furniture further give the place an authentic garage-like look. 
Besides great coffee, the Imperial Moto has delectable lunch options, baked goods, free WiFi, and an apparel clothing line. The cafe also hosts live music events featuring local artists regularly.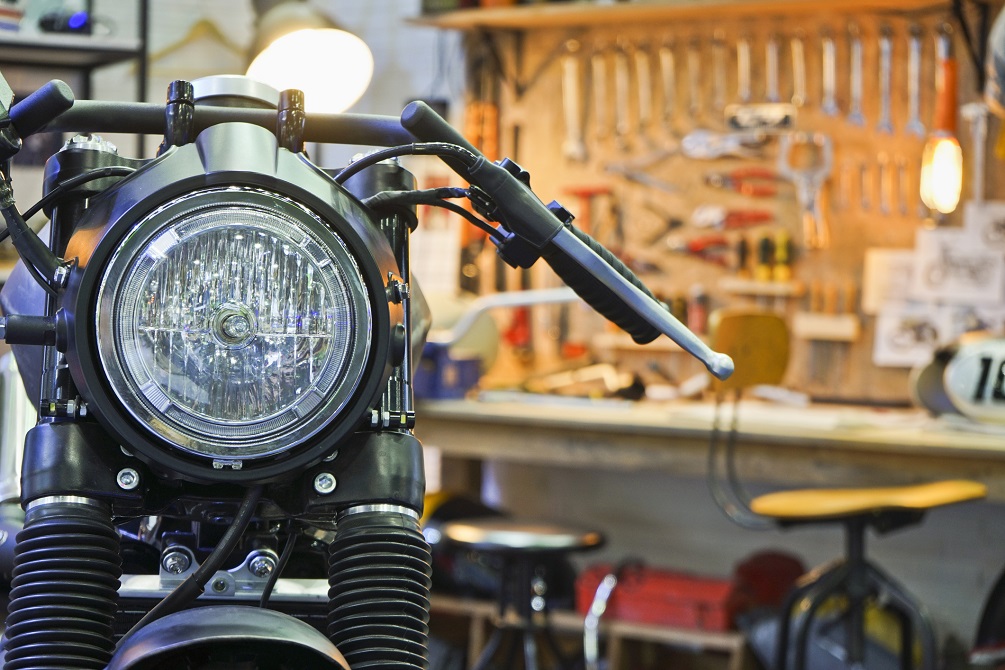 Suite Habana Cafe
Suite Habana Cafe takes you on a trip all the way to Cuba without having to leave the city. One of the most insta-worthy cafes in Miami, a stop here is an experience that lingers on long after you've finished drinking their specialty Cuban coffee. 
Located in the trendy Wynwood district, Suite Habana is a bright and glowing space designed in the form of a paladar. While the word means "palate" in Spanish, in Cuba, a paladar refers to an eatery in a residential home. 
The décor at Suite Habana is thus very homely yet modern, with distinctive features like a whitewashed brick wall. There is both indoor and alfresco seating available, and don't forget the photo-op with the mural on the cafe's outside wall.
On the menu are classic coffee options. Do try their banano milkshake or la colada hot coffee if looking to try something different. Suite Habana also sells a variety of baked goods, empanadas, and sweet bites like flan and popsicles.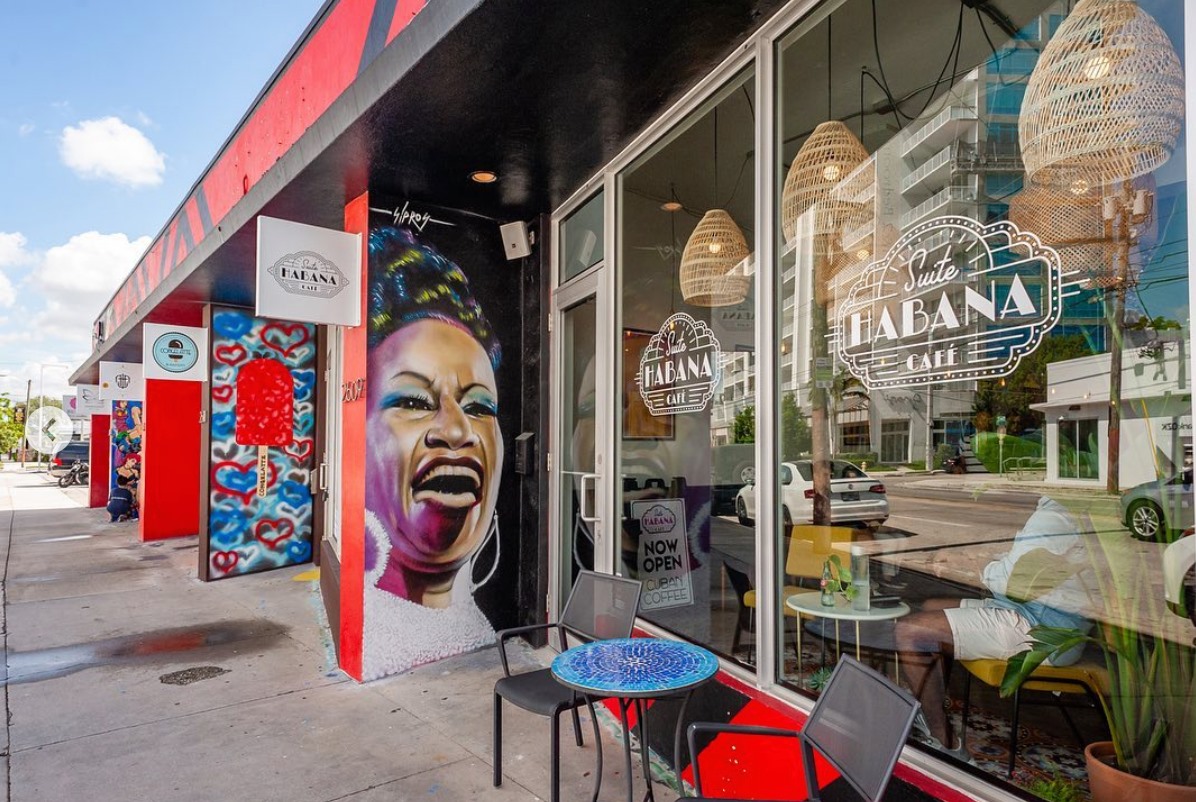 Miam
Ask any local about the most instagrammable cafe in Miami, and they are more than likely to mention Miam. Located in fashionable Wynwood, the eatery is iconic to its very core. 
Merging beautifully with its graffiti-heavy neighborhood, Miam's architecture, as well as black and white striped façade, are unique and an unmissable photo-op.
Inside, the ambiance is uber-chic, delicate, and quintessential cafe-like. Occupying the floor are simple tables and chairs; some joined together for communal sitting, while others dispersed around for individuals. 
On the one wall are shelves carrying wine bottles, oils, and other culinary products that the cafe sells. Whereas the other has a bright red, love-inspired wall art. The barista's at Miam work in one corner, with a chalkboard menu in their back and a display case with foodie delights in front. 
The menu at Miam is equally enticing. The food is organic and locally sourced. If visiting for the first time, you have to try their Gruyeres burger, avocado toast, and organic omelet.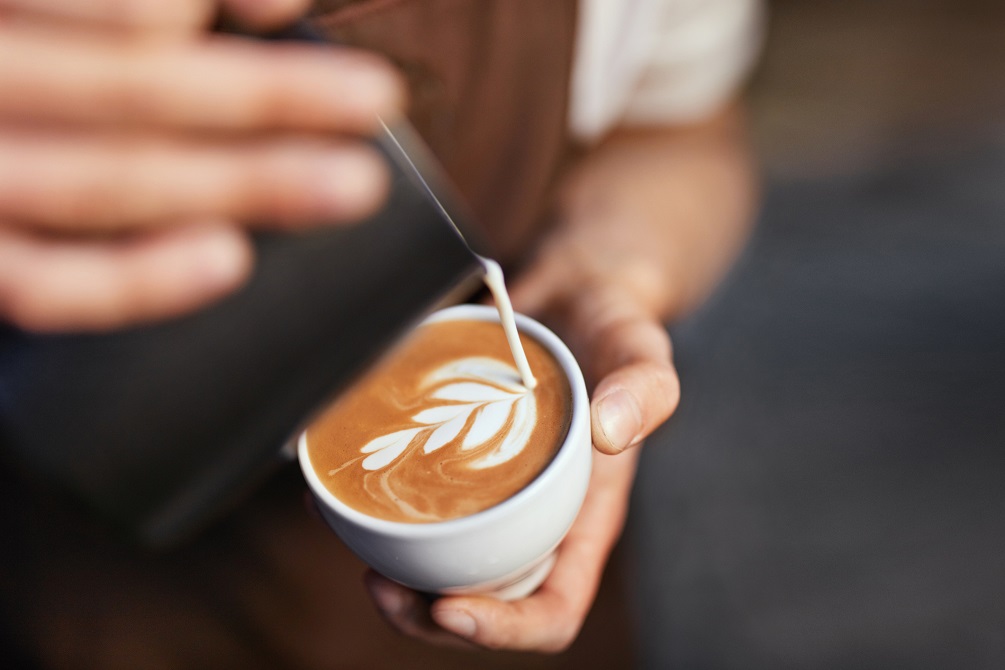 Macondo Coffee Roasters
Macondo is a homegrown independent coffee shop enterprise founded in Doral, Florida. There are now three Macondo outlets in the Sunshine State. Kendall and North Miami being the other two locations.
Working directly with Columbian farmers, Macondo roasts its coffee in-house, ensuring the most flavourful of blends. However, it's among the most instagrammable cafes in Miami owing to quirky elements that form a part of its décor. 
Visit either of the three Macondo cafes, and you'll instantly feel welcomed. The staff is friendly and always smiling, whereas the environment is cozy and comforting.  
Moreover, depending on the location, you'll come across individual style details, from an in-shop roastery with an area marked by coffee bean jute bags to colorful chairs, chalkboard menus, bookcases, and live music events.
The menu at Macondo is quite diverse and steeped in American and Latin culinary heritage. To drink, try their hand-pressed Columbian Chemex coffee, and then cut into a cheesesteak, a salmon burger, or a turkey club wrap.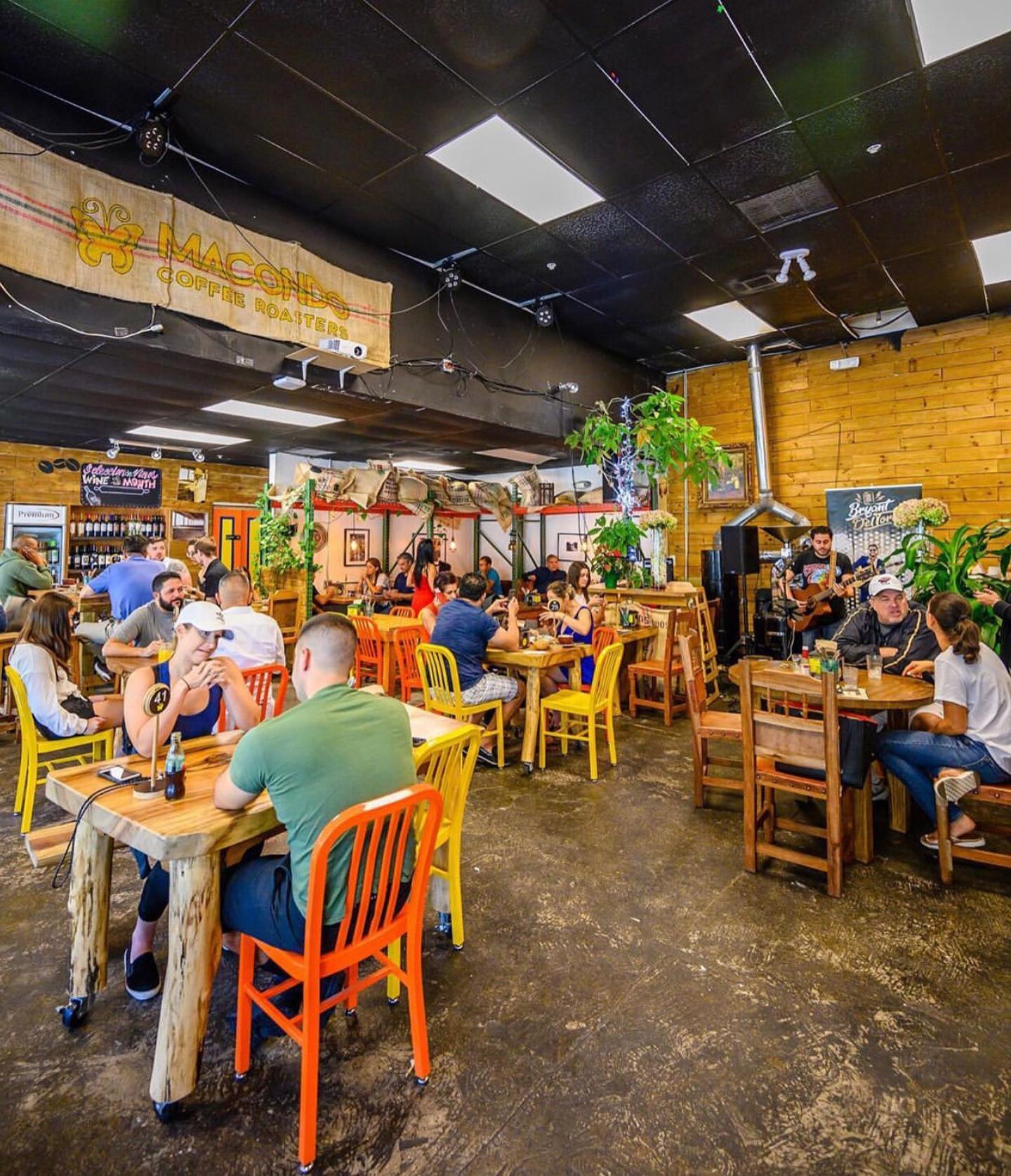 Brew Urban Cafe
Brew Urban Cafe is a hidden gem of a coffee shop and totally worth the half-hour drive from downtown Miami to Fort Lauderdale. As part of a community space and photo studio known as Next Door, it has a warm and arty atmosphere. 
The cafe gets an instagrammable status for having a beautiful book collection stacked from floor-to-ceiling behind its bar counter. Its industrial interiors, consisting of metal and wood furniture, complete the picture, giving Brew Urban a rustic charm.    
Adding to the appeal of the cafe is its dual nature. During the daytime, it acts as a quiet place to have artisanal coffee along with delicious bites like cheeseburgers, grilled chicken salads, waffles, and bagels. 
Come night-time, and the cafe transforms into a groovy and happening destination where patrons can taste local craft beers. Moreover, the locally roasted coffee is the perfect ingredient for their specialty drinks like Good Karma – vanilla, caramel, and espresso. Brew Urban Cafe also serves baked goods and has different milk options such as almond, coconut, oat, and skimmed.