Soon after it first came under the radar of avid travellers, the Indonesian island of Bali became a backpacker's haven. The town of Kuta quickly gained popularity and still has some of the most budget-friendly accommodations in this paradise. 
However, keeping in tune with popular international trends, Bali rapidly started attracting luxury tourists, with several lavish seaside resorts opening in Nusa Dua.      
It wasn't until a decade into the new century that Bali's persona once again changed. Besides enticing offbeat and luxury travellers, it began drawing the millennial generation, who came looking for a destination packed with novel and hipster experiences. 
The Bali of today stands divided. Every neighbourhood of the island offers a unique living experience, from secluded escapes among rice paddies to beachside residences near the best surfing breaks.
Seminyak, for example, is the centre of Bali's hotel industry. It allows guests to stay in stylish abodes and party day and night at exotic beach clubs. 
On the other hand, the town of Ubud has a more bohemian character. Although not close to the water, it continues to be the centre of Bali's artistic movement.   
For that perfect holiday in Bali, it is worth dividing your time between a couple of different accommodations. After all, the best boutique hotels in Bali are some of the quirkiest, eco-friendly, and exclusive residences in the entire world. 
Katamama
It's not only Katamama's central location in Seminyak that makes it one of the best boutique hotels in Bali. Instead, it's the lushness of the property, the overall boho-chic vibe, and the fact that it is right next to Potato Head, Seminyak's most famous beach club. If that's not enough, Katamama guests also get preferential daybed booking at this popular party spot.  
Now, Katamama's brick façade might seem mundane at first. However, the hotel uses several handmade design elements in addition to varied textures and different materials that help give it a very fashionable character.
The guest accommodations at Katamama are roomy and fresh, with plenty of natural light seeping in through large windows. In-room luxury amenities include a pillow menu, bathtubs, wooden flooring, fine linen, rugs, king-size beds, and a few abodes with balconies. 
Moreover, at Katamama, there's never a dull moment with the hotel staff organizing several activities throughout the day. Guests can take mixology classes at the hotel bar, do yoga by the poolside, enjoy a rejuvenating spa treatment, or hit the gym at any time of the day.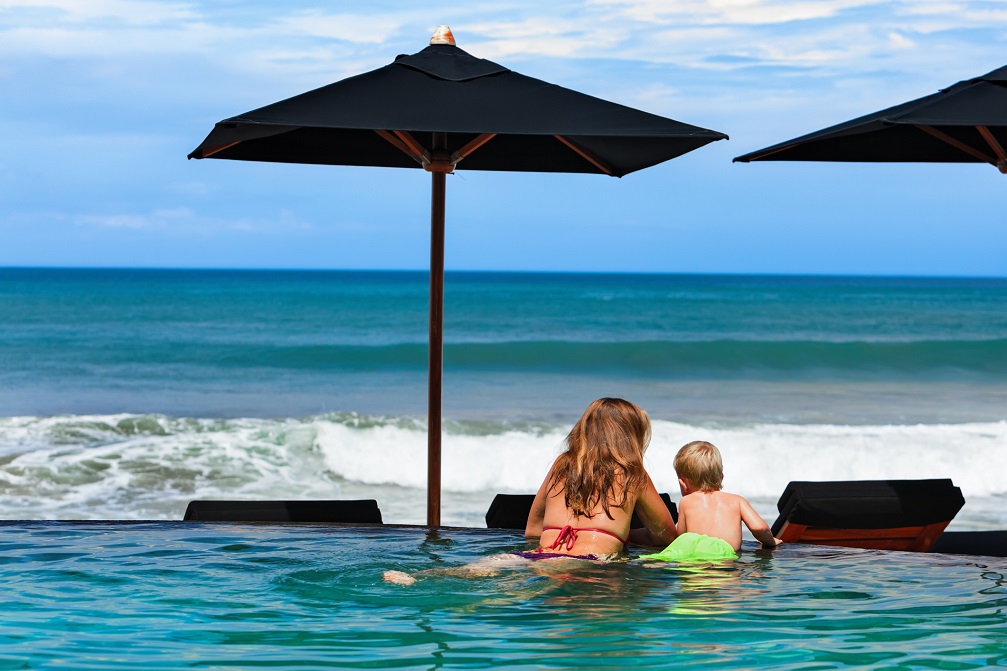 Klumpu Bali Resort
Welcoming visitors since 2013, Klumpu Bali Resort is an experiential stay located in Denpasar, on the island's South East coast. Guests staying here can pick one of eight spacious lumbung villas. Lumbung is a traditional Balinese building style that looks like a boat and uses bamboo and coconut wood for construction.
Klumpu has villas with or without a loft. Either way, standard facilities include a kitchenette, marble flooring, air conditioners, TVs, king-size or twin beds, en-suite bathrooms, and a patio area. 
Open and airy, the villas are the perfect amalgamation of extravagance and traditionality brought about by the use of Balinese furniture in the rooms.
The luxury hotel experience at Klumpu further includes a range of services, from a lagoon pool, in-house restaurant, and spa to free Wi-Fi and complimentary use of bicycles to explore the neighbourhood.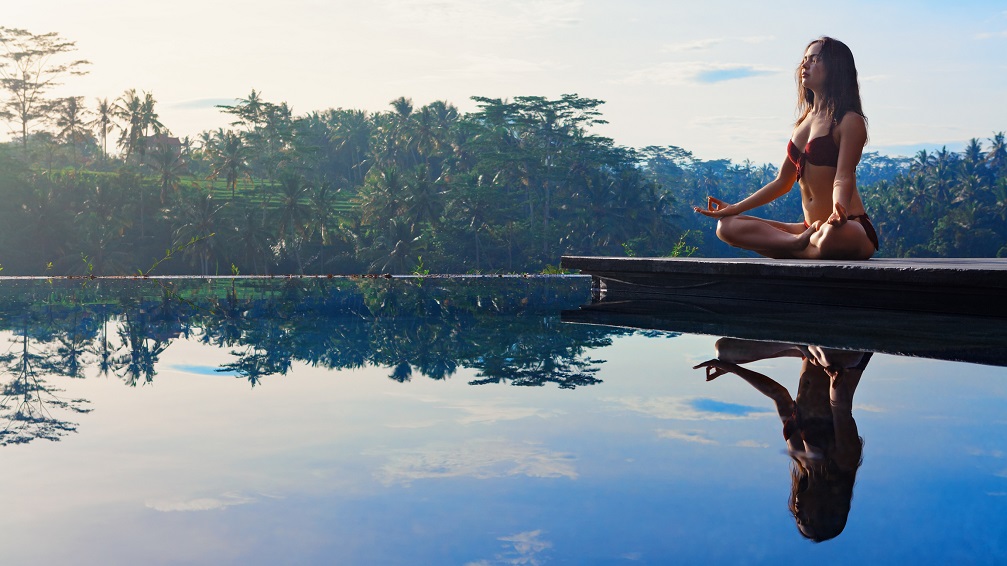 Bisma Eight
Ubud is full of amazing places to stay, but Bisma Eight stands out and is undoubtedly among the best boutique hotels in Bali. Guest booked here have access to plenty of open living spaces, from a stunning infinity pool to a courtyard and a calm lobby area.
Bisma Eight is an all-suite and villa property. The hotel has 38 bedrooms and 12 villas. Each accommodation uses local materials to create clean and sleek interiors consisting of fine linen, functional furniture, and unique features like a Japanese soaking tub in the en-suite bathrooms. 
The villas at Bisma Eight have large living areas perfect for families. Comprising one or two bedrooms, they come with private pools and a garden area. 
Heightening the luxury stay experience at Bisma Eight are its four dining options. Ember is an atmospheric restaurant that serves Mediterranean fare. The rooftop eatery Copper is an idyllic location for a romantic fusion diner featuring local culinary favourites. As for those peckish moments during the day, the Library Café and poolside Pavillion provide a tummy-filling respite.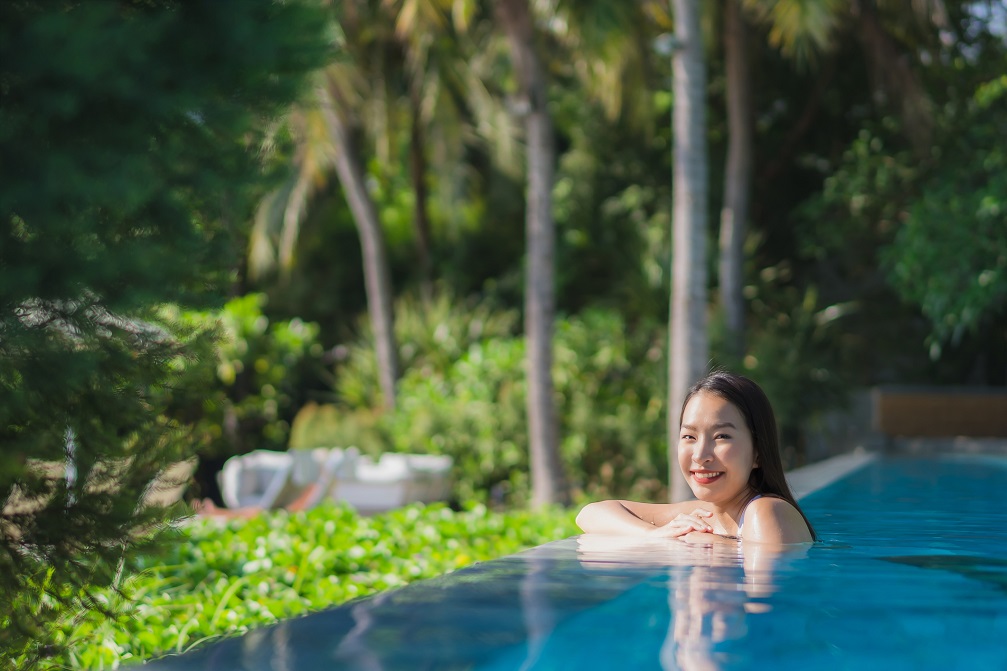 Balquisse Heritage Hotel
Nestled snugly in an old coconut plantation, Balquisse Heritage is an award-winning hotel in Jimbaran. Only 20-minutes from Nusa Dua, it lies 800 meters away from the nearest beach. 
A passion project of Zohra Boukhari, the 16-bedroom former residence is a sheltered escape ideal for couples and families. In its endeavour to please all types of hotel guests, Balquisse offers six room types, from their superior, deluxe, and family bungalows to the plantation suites and gladak – an abode built in traditional Balinese style.  
Boasting exotic interiors inspired by Asian, Moroccon, and Javanese design aesthetics, Balquisse is one of the most stunning boutique hotels in Bali. Guests with a fondness for vintage living will especially find the property spectacular. 
The rooms here feature exclusive wooden furniture pieces, muted colour tones, beautiful wallpapers, as well as contemporary amenities to make every stay comfortable. Balquisse also has a pool area, a spa, and an onsite restaurant, Asam Garam, that stays open from morning till late at night.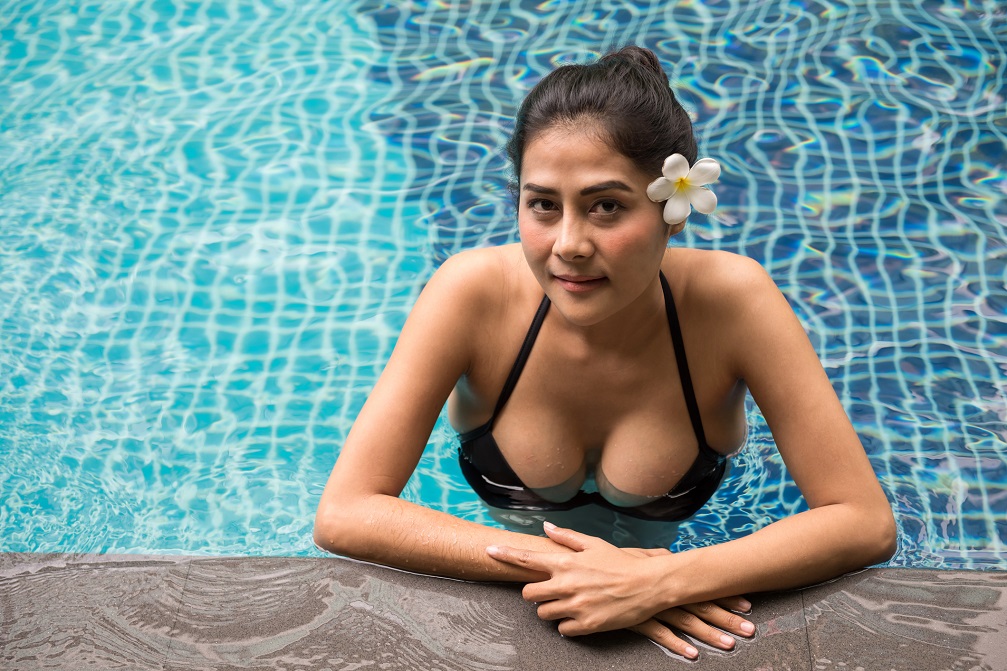 Pink Private Sanur
The Pink Hotels group has four properties in Bali. While each makes for an excellent stay option, Pink Private is their newest adults-only bed and breakfast. Located in the heart of Sanur, the intimate retreat is within walking distance of the beach. 
The eight-room abode is a vivid and flamboyant space that creates a fun and engaging atmosphere without being too tacky in its disposition. Private and at the same time open enough for guests to mingle, it is hard not to fall in love with the hotel's uplifting aura. 
A bed and breakfast at heart, Pink Private aims to generate a more homely and casual ambience. Facilities like individual breakfast choices every day, complimentary bicycle use, and a lovely pool to lounge around in the afternoon place it among the best boutique hotels in Bali. 
The themed rooms at Pink Private are lively and artistically designed. While bright colours are a given, the private terrace with day beds, semi-open bathrooms, and modern-day creature comforts make them all the more inviting.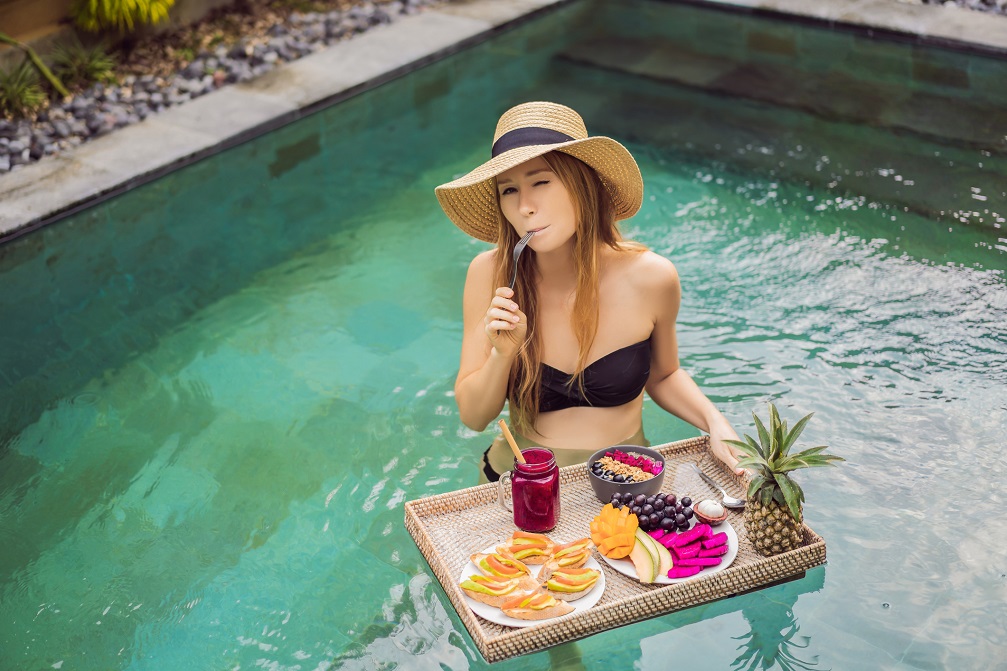 Breakfast tray in the swimming pool, floating breakfast in a luxury hotel. Girl relaxing in the pool drinking smoothies and eating fruit plate, smoothie bowl by the hotel pool. Exotic summer diet. Tropical beach lifestyle. Bali Trend.