Spending your holiday at a tropical island resort is an experience like no other. Wake up and walk out your front door, stepping directly onto a powder-white beach along the warm, turquoise ocean. An exotic paradise, with food and activities, catered all day long, an island resort as close to perfect as you can get. 
The Caribbean hosts over 700 islands, many of which are surrounded by sunny beaches and stunning coral reefs. Many choose this destination for their luxury stays, filled with refreshing spa therapies and fresh local cuisine. Enjoy kayaking, snorkeling, sailing, cycling, and many more wonderful activities offered by many resorts. While a lot of the great hotels run along the mainland coastline, true luxury can be found at the more exclusive island resorts. 
So, lie back in a hammock, sip a cocktail out of a coconut, and let go of the stresses of the world with an exotic holiday. Whether you're planning a wedding or honeymoon, or simply want to take your loved ones somewhere special, discover the most luxurious Caribbean Island Resorts right here. 
Jade Mountain Resort, St. Lucia
Our top choice for luxury island holidays is Jade Mountain, an all-inclusive, adults-only, resort. Nestled on the side of a cliff, with a view over the peaks of St. Lucia's twin volcanoes, Jade Mountain is a haven of pampering and luxury. The resort stretches out over 600 acres of beaches and palm trees, and each guest room has an open wall with a view over the ocean. The rooms also include a private infinity pool or hot tub and a comfortable four-poster bed. Butlers are available at any hour of the day to fulfill your needs. 
The beauty of the tropical island is only magnified by the elegant architecture of the Jade Mountain Resort. Designed with natural stones and subtle tones, the buildings are effortlessly elegant. Outdoor bridges running between the structures only elevate the natural atmosphere. Enjoy your meals in private, or dine at the award-winning Jade Cuisine restaurant or Celestial Terrace cocktail bar. 
Activities at this resort include watersports like kayaking, sailing, and scuba diving. There is also a spa, with traditional massage therapies, alongside gym and yoga activities. If you can bring yourself to leave the white sand beaches and coral reefs for a day, Jade Mountain offers excursions to the volcanoes, the sulfur springs, and the botanical gardens.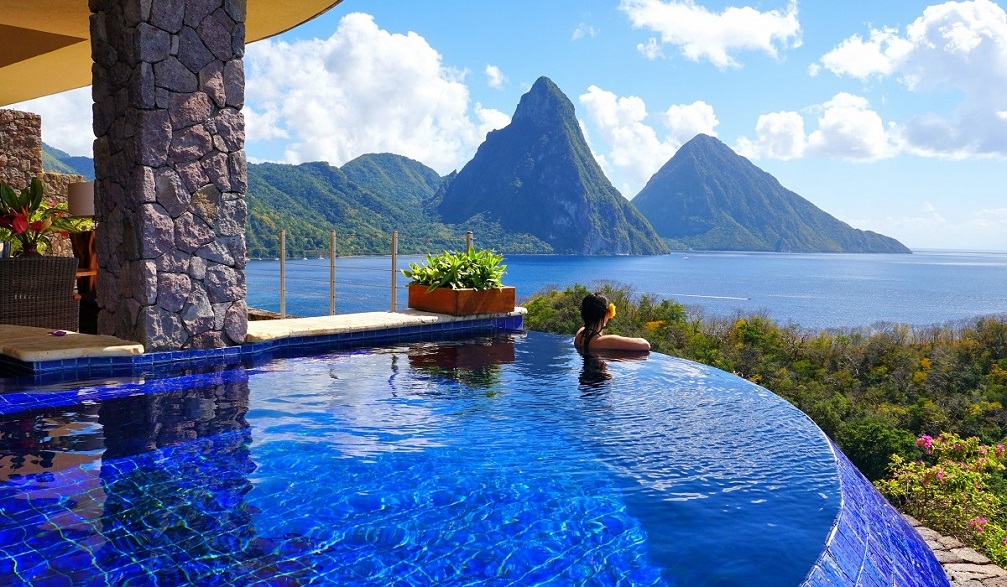 Picture credit to the owner: Jade Mountain Resort Sta. Lucia
Jumby Bay Island Resort, Antigua
An exclusive tropical island, only accessible by boat and with just twenty-eight suites and villas, the all-inclusive Jumby Bay Island Resort is the definition of a luxury holiday destination. Each room is fitted with white and blue tones and large, soft beds. Some have access to private pools, but each room is close to the soft powder sand and clear warm waters. 
The all-inclusive nature of Jumby Bay includes free access to a range of activities and dining venues. Take to the ocean for some waterskiing or windsurfing. Paddle peacefully around the island in a kayak or snorkel through the fish-filled reefs. If you want to explore the island, you can walk or cycle along a tropical nature trail. Tennis courts are also available. For the evenings, you can bring a cocktail to the sand and enjoy the Cinema on the Beach. 
All-inclusive food and drink are available at eight different bars and restaurants. Appreciate Caribbean fine dining at The Estate House or eat your lunch along the water's edge at The Pool Grille. Tastings are also available for Caribbean rums and teas. For a truly relaxing stay, get pampered with natural wraps and treatments at the rejuvenating Jumby Bay Spa.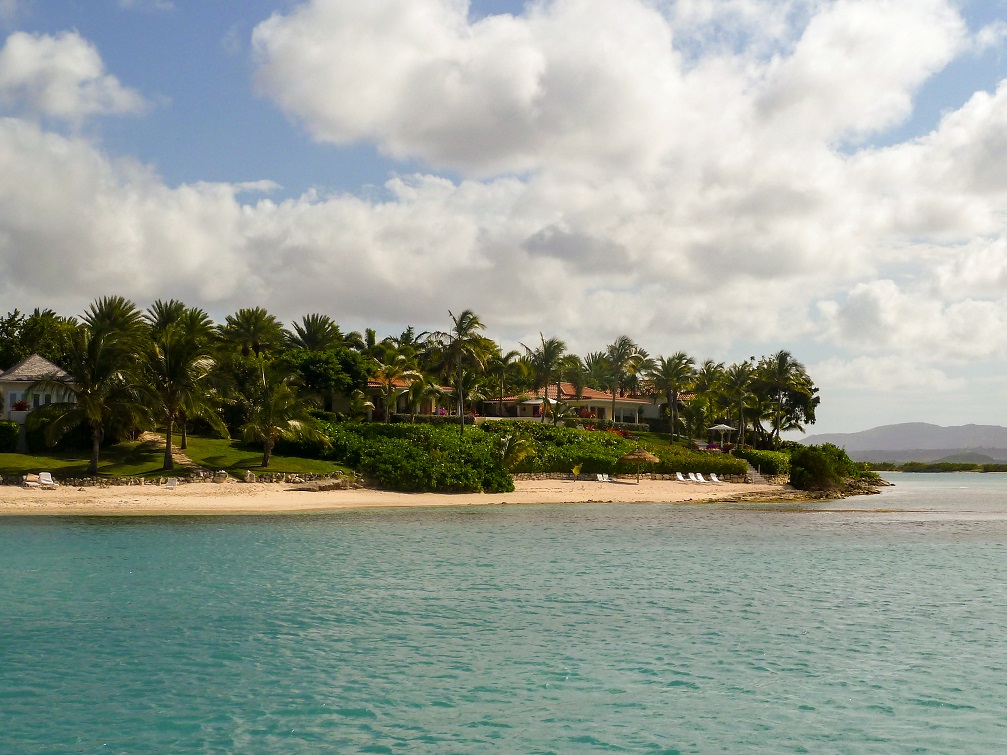 COMO Parrot Cay, Turks & Caico
A resort stretched out over a private tropical island, this Caribbean paradise is the favorite holiday destination of celebrities and discerning travelers. This one-mile-long strip of powder-white sands and beautiful blue waters is only accessible by boat. Located on the island is a beautiful selection of beach-side houses, suites, and villas that make up the Como Parrot Cay Resort.
All the rooms are furnished and decorated in soft whites to enhance the peaceful tropical atmosphere. Some of the buildings are equipped with a sun deck overlooking a private pool or hot tub, but none of the rooms are far from the warm ocean water. There are secluded houses available, for those who want privacy while they relax, and all the villas have twenty-four-hour butler service.
Alongside the beaches and pools, COMO Parrot Cay offers a range of activities, including a tennis court, a yoga studio, running trails, a gym, and even an activities center and a library. The COMO Shambhala Retreat is the award-winning spa on the island, which offers a range of natural therapies and luxury pampering. With a choice of dining venues, ranging from the Caribbean-inspired Lotus restaurant to the COMO Beach Club, there is everything you will need for your incredible holiday at COMO Parrot Cay.
Palm Island Resort and Spa, The Grenadines
This long, idyllic island, surrounded by perfect white shores, is the perfect location for a honeymoon or couples retreat. Dedicated to ensuring guests a pampered, relaxing holiday, the Palm Island Resort and Spa is dotted with a variety of guest houses, suites, and villas. The rooms are decorated with tropical bamboo and some of them include private pools and terraces overlooking the sandy beaches. 
Enjoy relaxing in shaded hammocks, or take a romantic trip to the cascading waterfall. Participate in watersports like sailing or kayaking, or try to spot a sea turtle while snorkeling along the coral reefs. Tour the island by bicycle, play tennis on the Astro courts, or enjoy the beach with a good book from the resort library.
The Palm Island Spa offers an ultimate deep tissue massage to ease your stresses or a hibiscus bath to soak and refresh your body. The resort has two incredible restaurants with fresh, quality cuisine. Leave the beach at lunch for the Sunset Restaurant and Bar, then enjoy a romantic dinner at the Royal Palm restaurant.