A perfect holiday in San Francisco includes visits to the Golden Gate Bridge, Lombard Street, Alcatraz Island, the Museum of Modern Art, Union Square, and several other fantastic attractions in the region. However, any trip to this famed city remains incomplete without indulging in its vibrant café culture. 
Nestled in its many commercial and residential streets, cafes in San Francisco range from vivid to design-centric. Brimming with heaps of character, these quaint coffee shops also act as a respite for locals and tourists to step away from the bustle of everyday life. 
In fact, the best cafes in San Francisco are incredibly versatile. They form the perfect backdrop for all forms of interactions, whether it is a get-together with friends, a business meeting, or the opportunity to sit down with a soothing cup of hot coffee after an eventful day of sightseeing in San Francisco.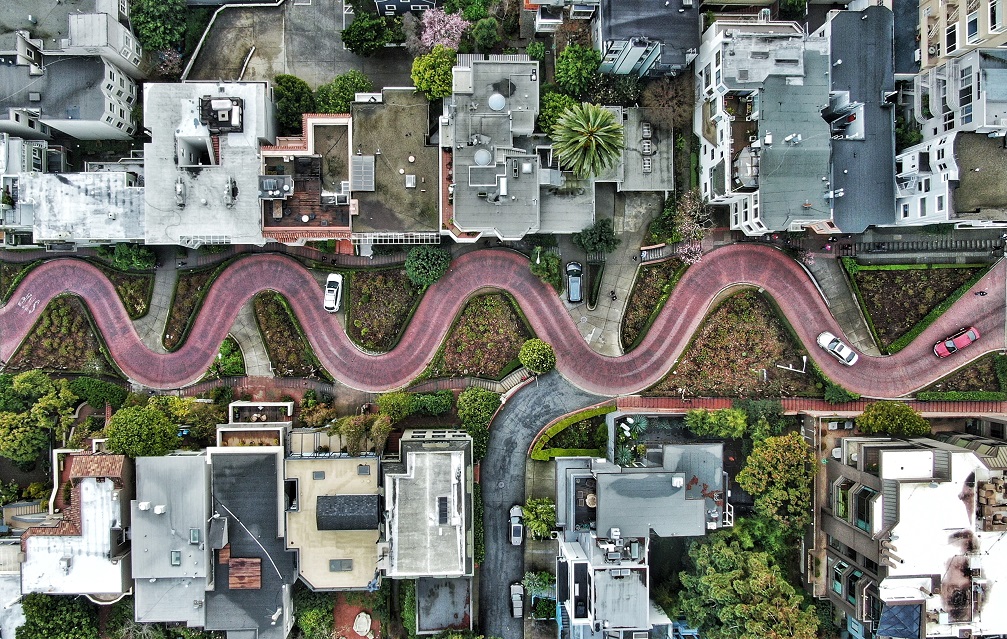 Wrecking Ball Coffee Roasters
While not the inspiration for Miley Cyrus' famous song, Wrecking Ball has plenty to stimulate design students and coffee aficionados. 
A small café in San Francisco's Cow Hollow neighborhood, it exudes an attractive minimalistic charisma. Wrecking Ball has limited seating, only three chairs by the barista bar, and some standing spots. 
The café, however, has an ethereal aura due to the predominant use of white and splashes of color brought about by wallpapers from Hygge and West. 
Confident and serious about the business, Wrecking Ball roasts its own coffee at its headquarters and roastery on Folsom Street. The menu at the café includes classics like espresso and cortado as well as ice brewed coffee, matcha latte, pour-over, and filter coffee. 
Furthermore, they offer a selection of sweet and savory bites from Marla Bakery. Patrons of Wrecking Ball can also buy coffee-making equipment, pre-packed signature blends, and themed apparel at the café. 

credit to the owner: Wrecking Ball Coffee Roasters
Hollow
Hollow is a delightful little café with an idyllic persona and all the attributes of a Hollywood rom-com movie location. 
A true-blue hidden gem of San Francisco, Hollow's magnetism lies in its old-world simplicity and Instagrammable nature. Additionally, its petite size makes it an excellent spot for a chatty catch-up with friends.
Not to forget, Hollow also offers a limited yet delicious menu. You can obviously have a perfectly made americano or a cappuccino here. 
However, it would be a mistake to miss out on their house butterscotch latte or the marshmallow-loaded 24 blackbirds mocha. 
If feeling peckish, don't fret. Hollow has yummy empanadas and baked goods like cookies and cakes.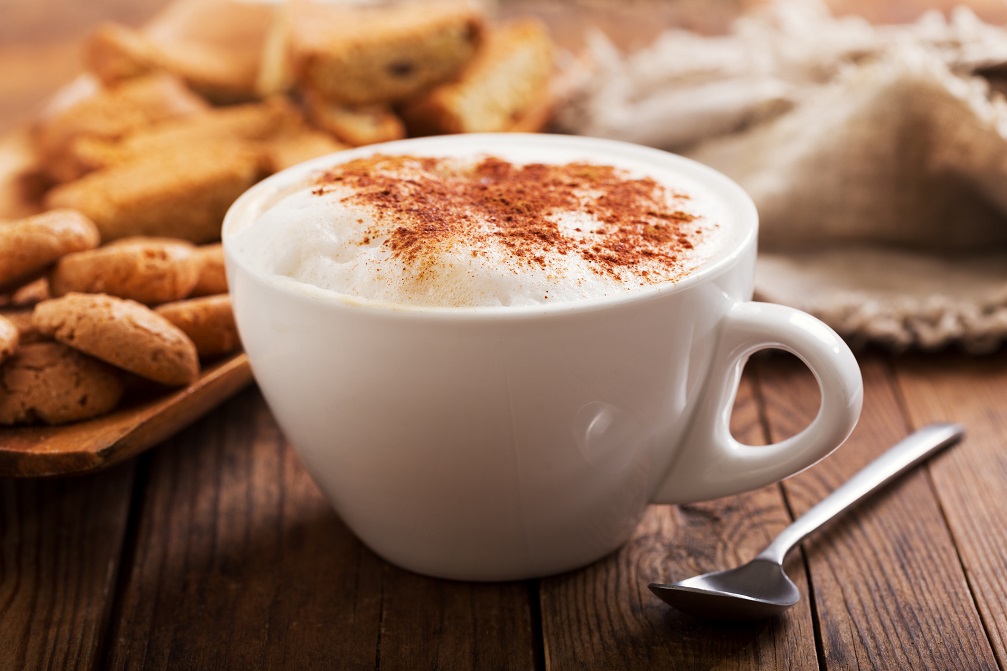 Hideaway Cafe
If it's eccentric you want, Hideaway Café in San Francisco is your best bet. Located on Jones Street, in a chiefly residential area of Nob Hill, Hideaway is a comfortable space with an almost old-town diner vibe. 
What makes it unique is that the café is also a part of Rinse Laundromat. 
An ideal place to sip coffee while waiting for a load or two to finish, Hideaway is equally nice to visit for a relaxing sit-down with a book or friends. 
On offer here is an extensive range of coffees as well as drool-worthy comfort foods. The freshly made pepperoni pizza and their SF bagel with smoked salmon, crème cheese, ham, and red onions are a must-try.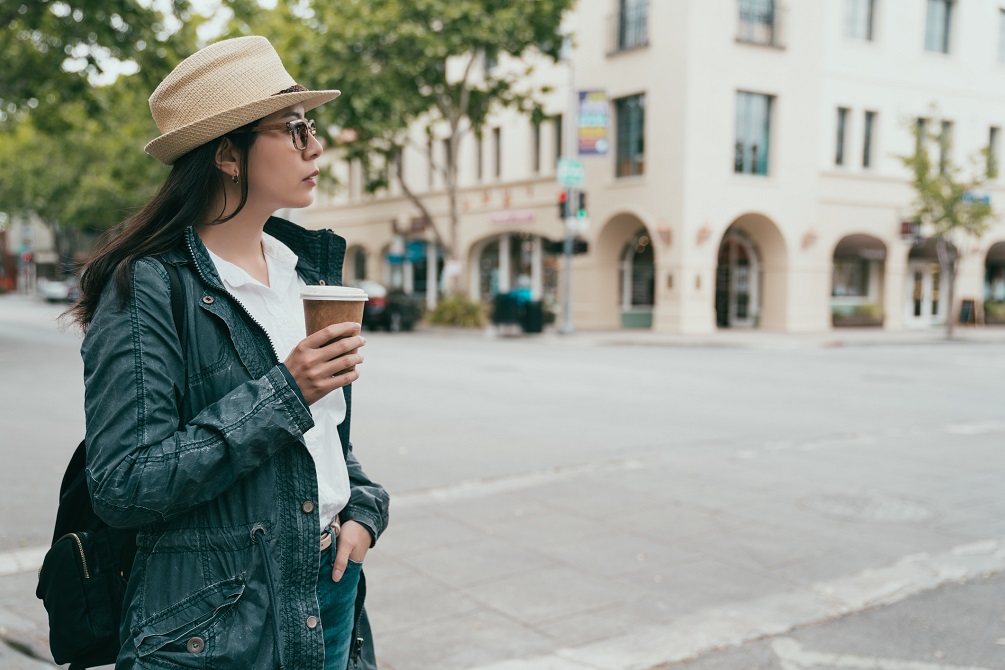 Saint Frank
Saint Frank is among the best contemporary cafés in San Francisco. It keeps things simple yet maintains a somewhat hipster vibe. 
Roasting sustainably sourced coffee beans from farms across the world, the café is a labor of love that hopes to excel at satisfying the daily needs of coffee enthusiasts. 
Furthermore, to educate people about different coffees, they display information about the latest beans on offer, their origins, and individual tasting notes.
A soft mellowness engulfs the interiors of Saint Frank at their Russian Hill branch that comprises two floors with ample seating. 
The white barista bar with a corner pastry display case is the epicenter of the business. If you have time, take a minute and watch their learned baristas expertly prepare everything from honey lavender latte and hot chocolate to coffees from Burundi, Honduras, and Kenya.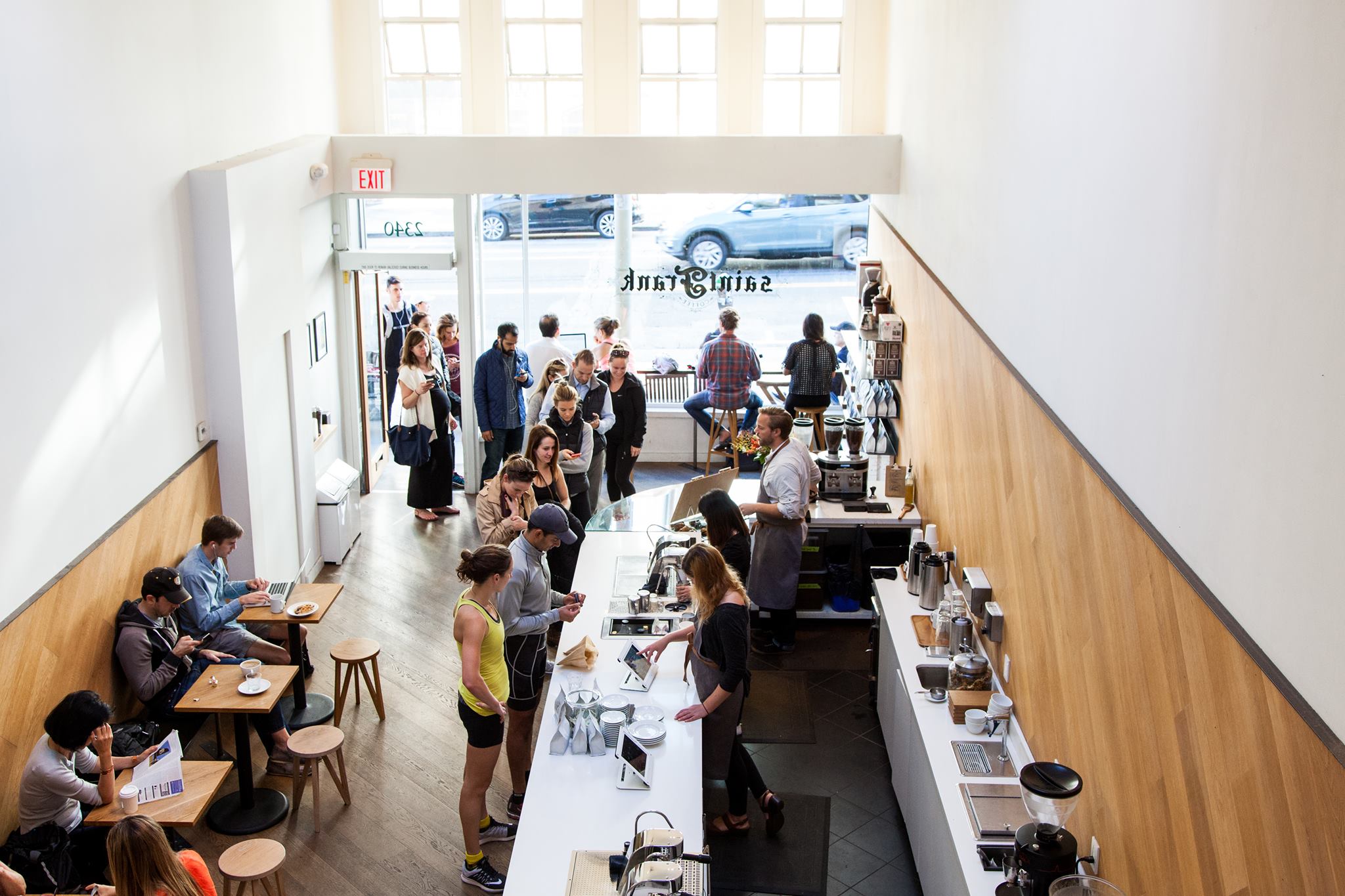 credit to the owner: Saint Frank
The Mill
With no wifi and no outlets to plug in your laptops, it's back to the basics at The Mill. A partnership between Four Barrel Coffee and Josey Baker Bread, The Mill has a tendency to become a home away from home quickly. 
At its core are hand-roasted beans specially sourced from Latin America and Africa. Additionally, artisanal bread, freshly prepared daily by the team of JBB, keeps hungry gourmands at bay. 
Even though The Mill has a modest-looking frontage, it is quite roomy on the inside. The seating arrangement allows for community interaction and provides space to sit on your own and enjoy a cuppa in peace. 
The Mill's interiors, though, are retro chic. Wooden beams on the ceiling, skylights, and shelves full of trinkets covering an entire wall make the design functional and attractive. 
The menu at The Mill is extensive. There are blends and single roasts from Guatemala, El Salvador, and Columbia. As for bread lovers, the café's smoked trout toast, halva toast, and egg in a hole are delicious.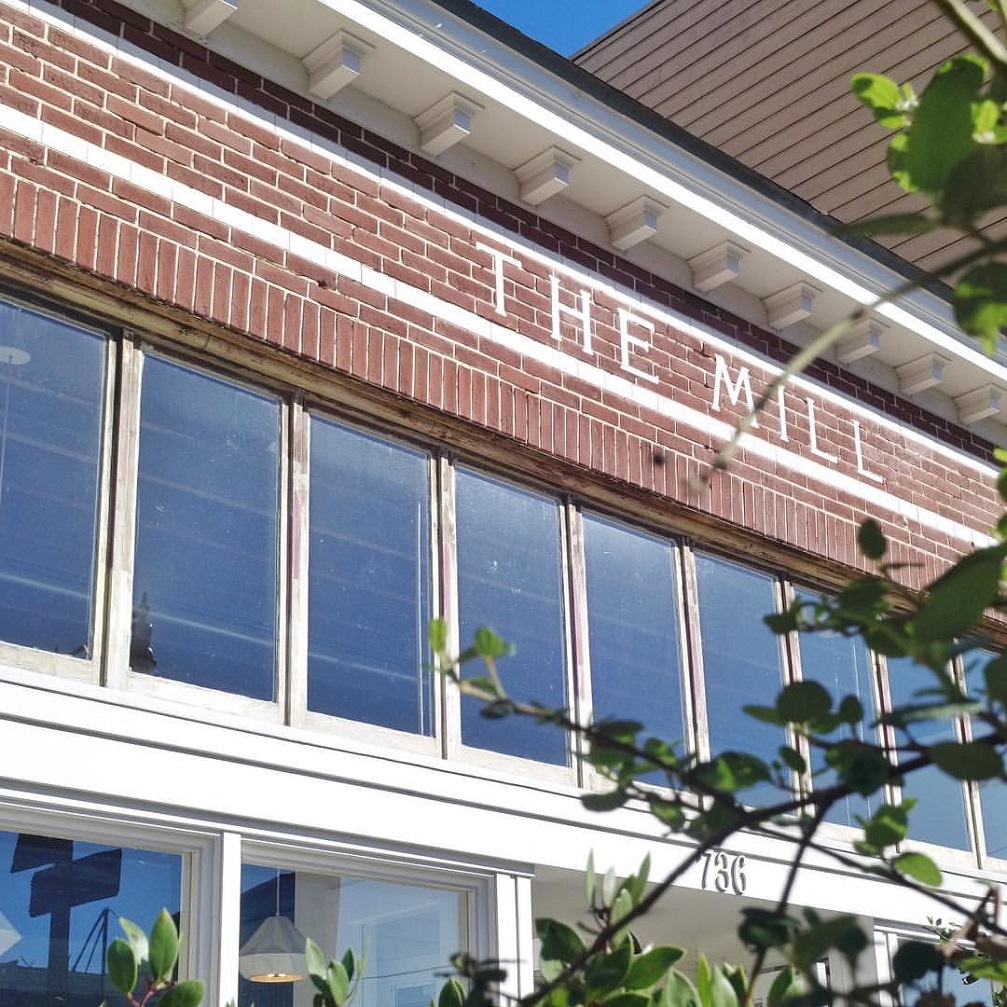 credit to the owner: the mill, love the neighborhood treasure!
Mazarine Coffee
The best cafes in San Francisco do not usually go overboard with their quirkiness. Mazarine Coffee, though, comes close. 
Influenced by Bibliothèque Mazarine, the first public library in France, the café has an industrial feel, albeit with a slight literary touch. Its bathroom, for example, has a beautiful Penguin Classics wallpaper. The tricky illusion-like art behind the barista counter, that sort of looks like books in a library, is another eye-catching feature of Mazarine. 
Situated centrally on Market Street, the cafe stays busy throughout the day. However, most locals get their coffee to go. So, if you wait a while, you'll be able to grab one of its tables. 
The menu at the café is a mix of classic and experimental drinks that defines the third-wave coffee culture of San Francisco. Their espresso drips and pour-overs differ from day to day. 
Mazarine also has two signature drinks, a sparkling hibiscus soda and raf – espresso, half and half, and cinnamon. If dropping in for brunch or a snack between sightseeing, dive into their lemon chicken salad bowl or the bacon, egg, and avocado toast.