The Aosta Valley, or Vallée d'Aoste in French, is one of Italy's five autonomous regions and has the peculiarity that both French and Italian are its official languages. A broad mountainous region, it spreads from the Mont-Blanc east to Monte Rosa and the Matterhorn and, South to the edge of the Gran Paradiso. It's an ideal holiday destination for families or groups of friends who enjoy mountain activities in winter or summer.
Winter
Winter sports
Skiers, snowboarders, and other snow sports lovers come from all over the world to the Aosta Valley in winter. There are many resorts of different size, but those with the best skiing are Courmayeur, on the Italian side of the Mont-Blanc (Monte Bianco), La Thuile, Cervinia-Breuil, on the Italian side of the Matterhorn and Champoluc-Monterosa.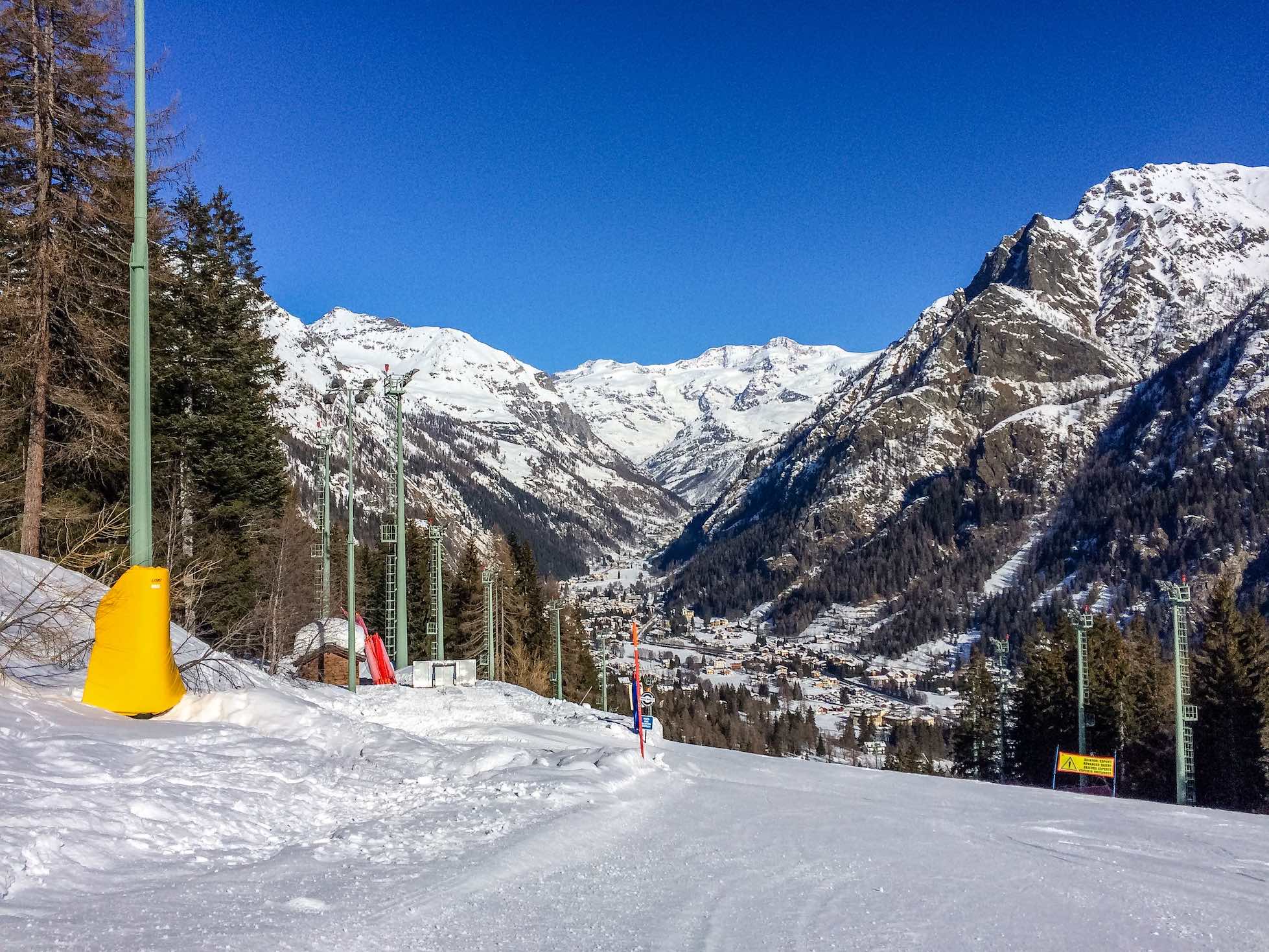 Courmayeur
Just past the Mont-Blanc Tunnel, Courmayeur is a day trip away from Chamonix and offers beautiful accommodation in the village or nearby Entrèves. Ski-lifts, stunning exposition and good snow conditions make of Courmayeur a choice skiing holiday. The ski area, Chécrouit-Val Veny, is 100 km of interlocking pistes open to skiers and snowboarders. Ski tourers will enjoy the Italian flanks of the Mont-Blanc and the glacier de la Toula. After a day's skiing – or instead of it – stop by the Maison de Filippo in Entrèves, a famous Valdostan restaurant that serves enormous and delicious feasts.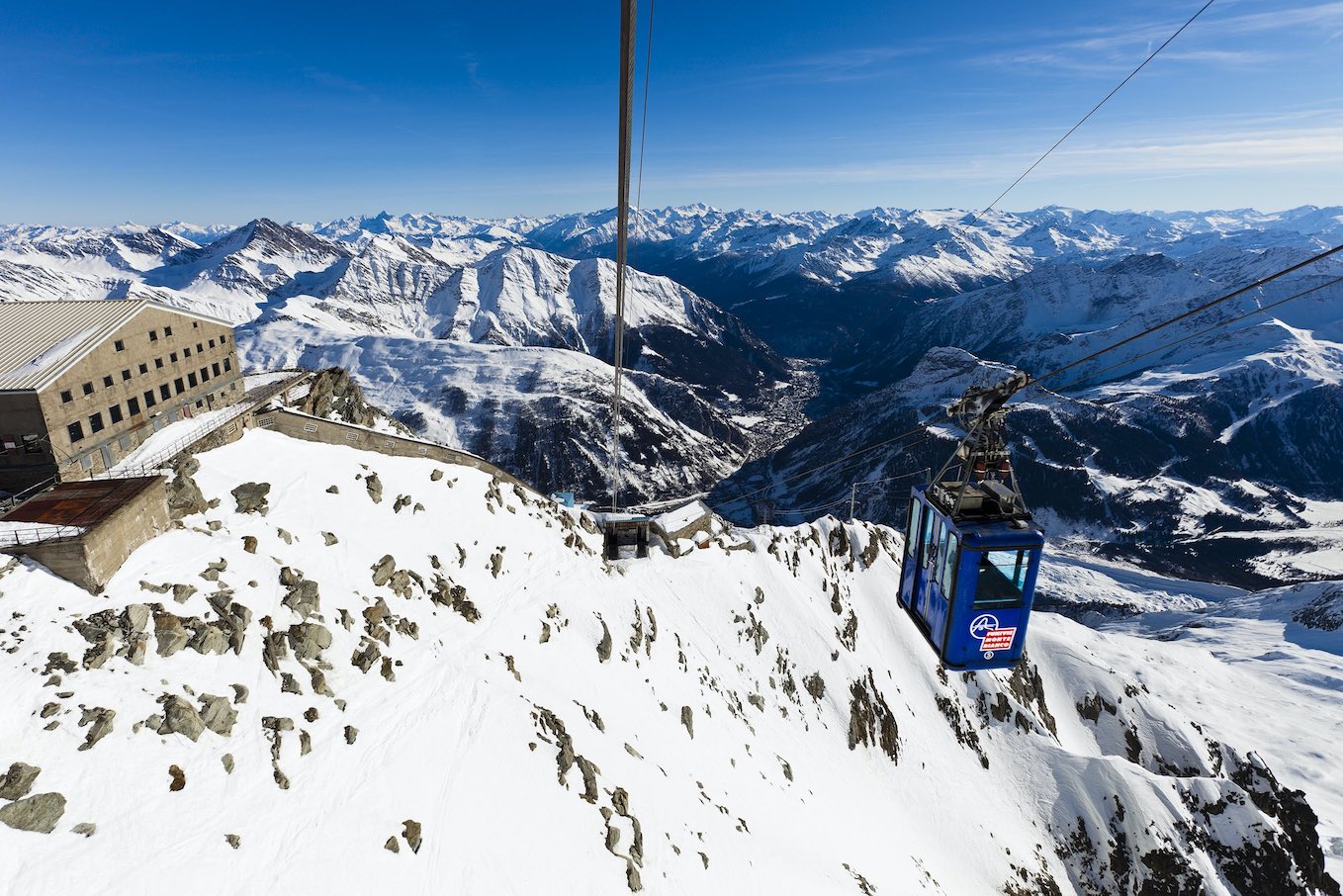 La Thuile
La Thuile, 20 minutes from Courmayeur, is both a traditional Valdostano village and a major resort that links to the French resort of La Rosière. The whole skiing area covers 150 km served by 35 lifts. It's a family-friendly resort, with many ski schools and holiday creches for the little ones.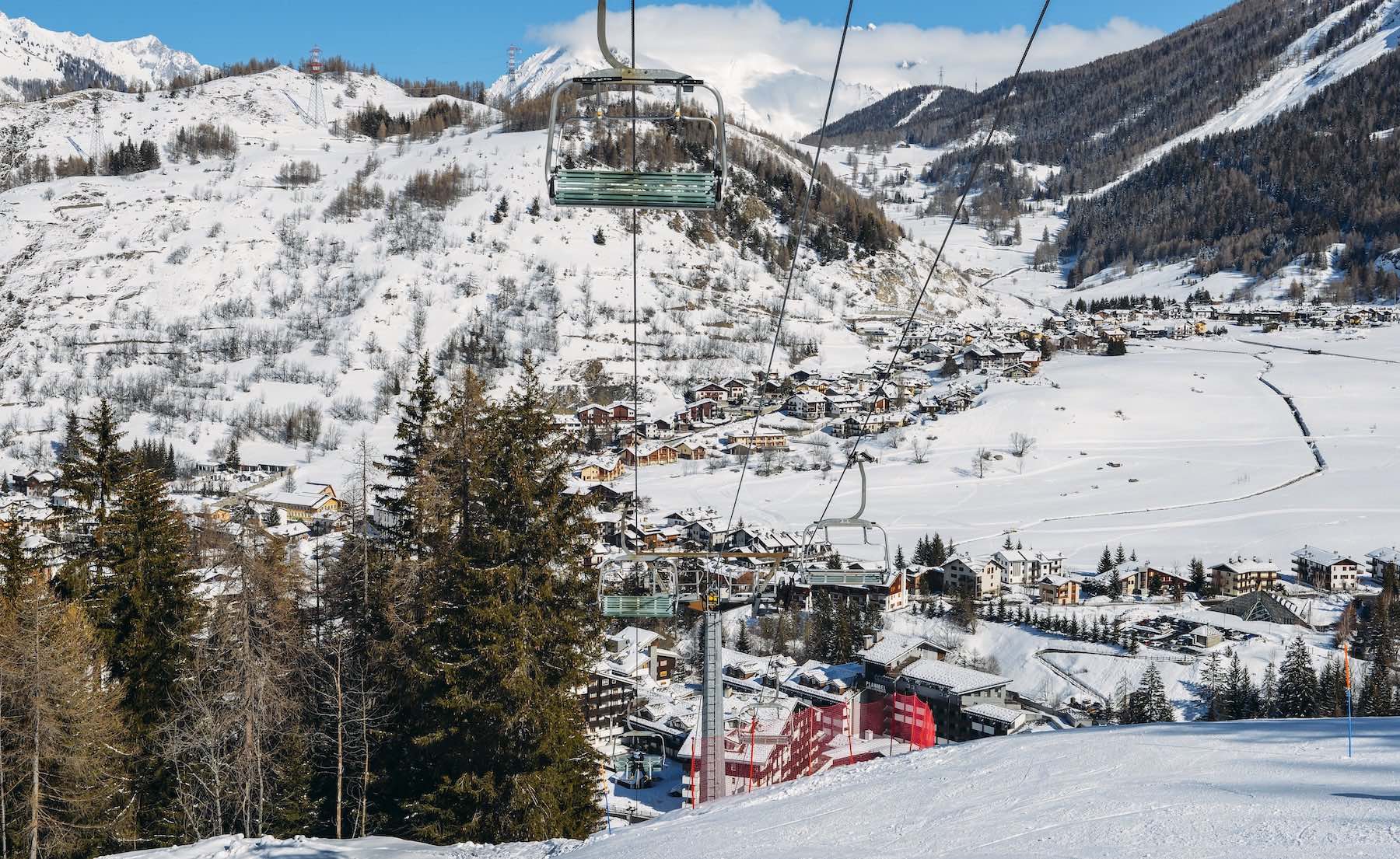 Breuil-Cervinia
Breuil-Cervinia is the resort village on the Italian side of the Matterhorn and links with both Zermatt and Valtournenche. Altogether, the three resorts offer 350 km of high altitude skiing with unmatched snow levels and breath-taking views. Skiing, snowboarding, ski paragliding, ski touring – you want it, they have it! On-piste restaurants like Chalet Étoile offer traditional Valdostano food and vin chaud, to allow you to continue your skiing day warm and refuelled. The village is welcoming and attractive, with a fun après-ski scene.
Champoluc
Champoluc is part of the Aosta' Three Valleys', along with Gressoney and Alagna. It's at the heart of the Monterosa ski area. Like the other three, it links with several interlocking resorts in Italy and Switzerland and offers exciting high altitude skiing and beautiful views of glaciers and crests. As well as skiing and snowboarding, it's an ideal place for ski touring and heli-ski, as it has slopes and couloirs ideal for off-piste skiing. It's possible to stay in any of the three valleys to enjoy the Monterosa skiing, with Gressoney and Alagna perhaps more 'villagey' in their atmosphere than the resort of Champoluc.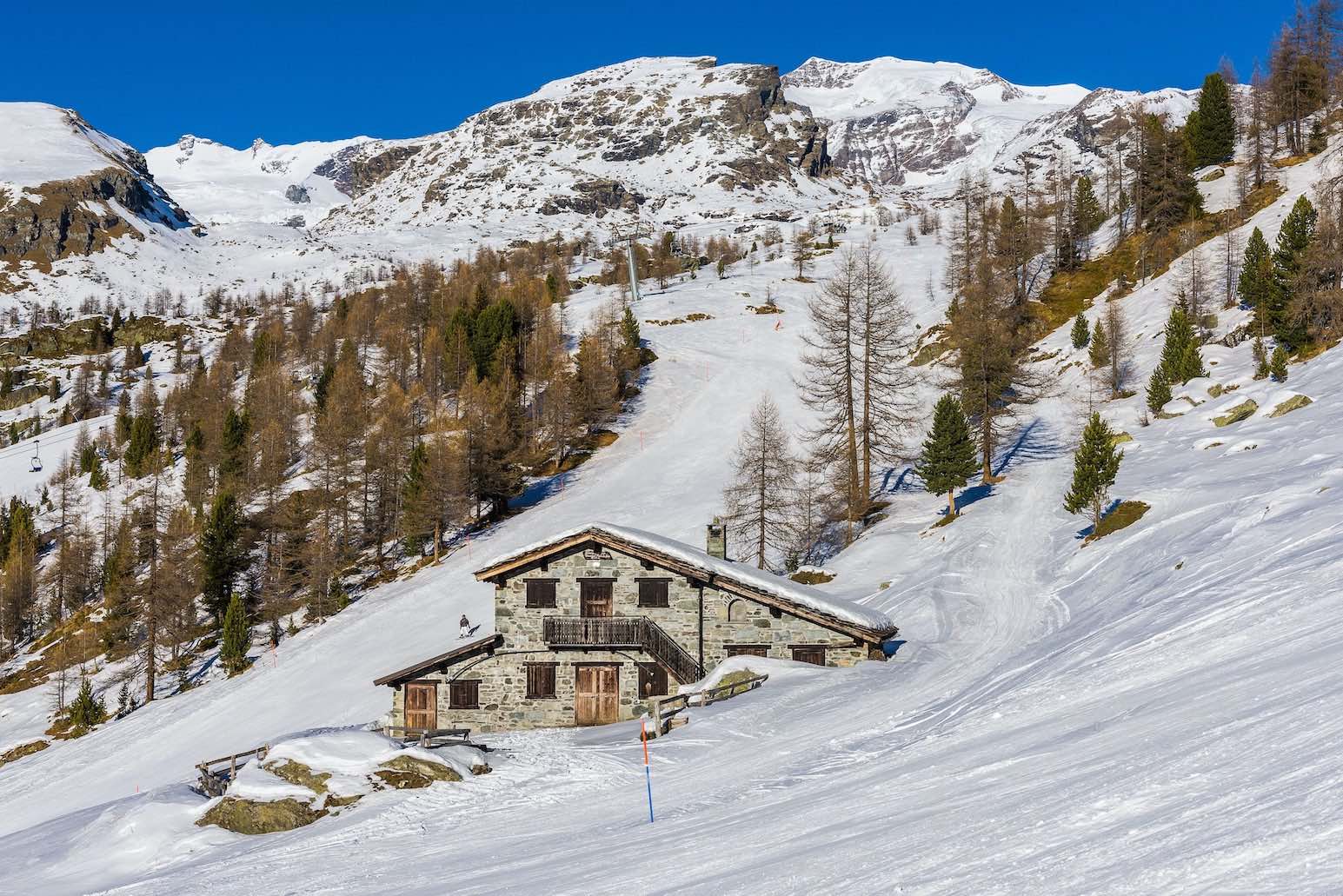 Summer
In summer, the Aosta Valley opens up to a vast number of sports activities – hiking, rock climbing, paragliding and mountain biking are only a few of those on offer. Part of the Valley is on the Tour du Mont-Blanc pathway. All of the villages mentioned above are open to tourists in summer and filled with activities for all ages. There's also a rich cultural offering that goes back deep into history. Although there is too much to list, a few destinations are worth a visit in summer.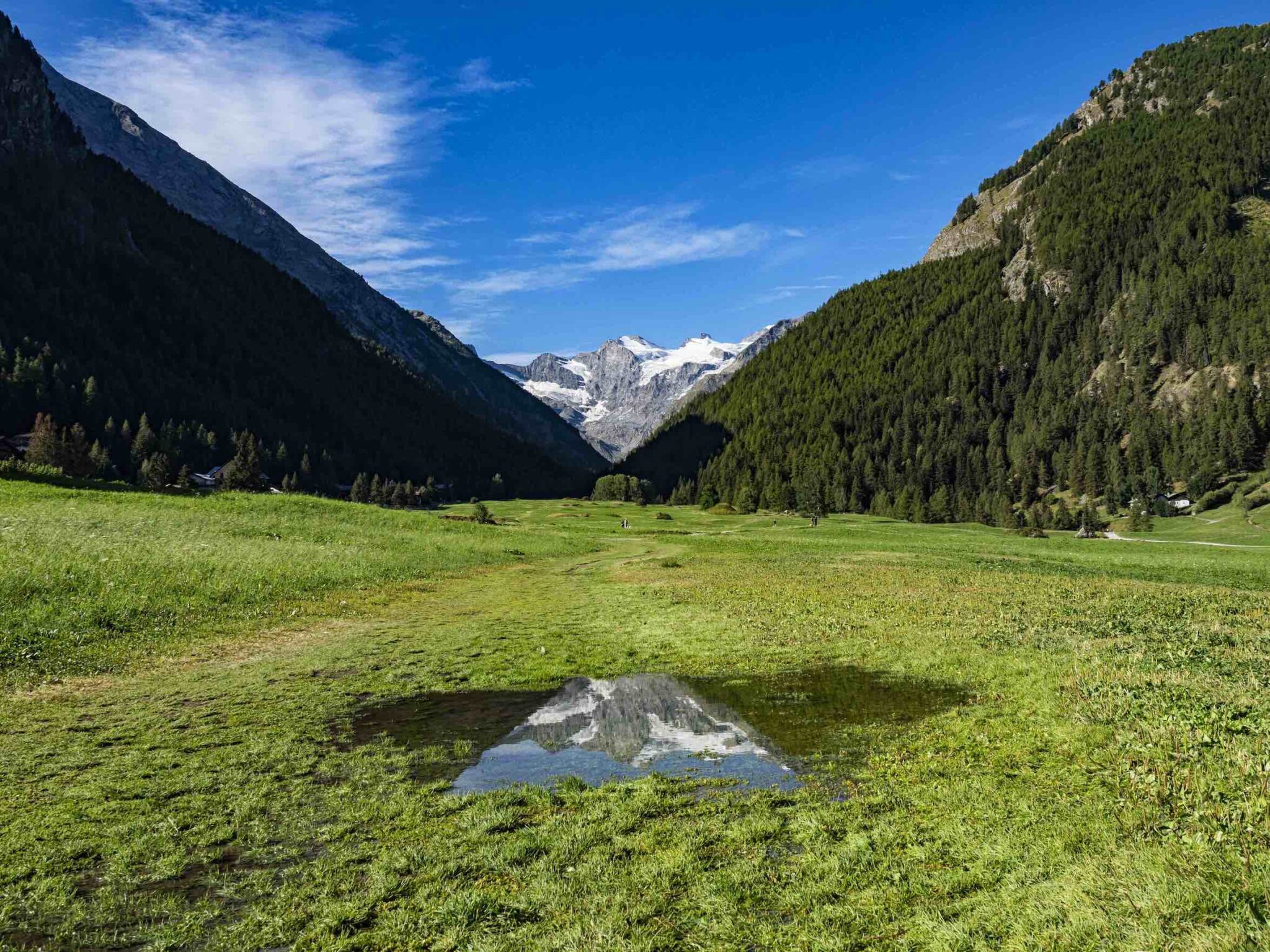 Val Ferret Italien
Val Ferret Italien – on the other side of the mountain from the Swiss Val Ferret, this charming vale that starts at Courmayeur is a paradise for serious hikers and strolling walkers alike. Its scenery is stunning with its views of Mont-Blanc, Grandes Jorasses and the Dent du Géant, and its atmosphere is easy-going. It has a 9-hole golf course and some excellent restaurants.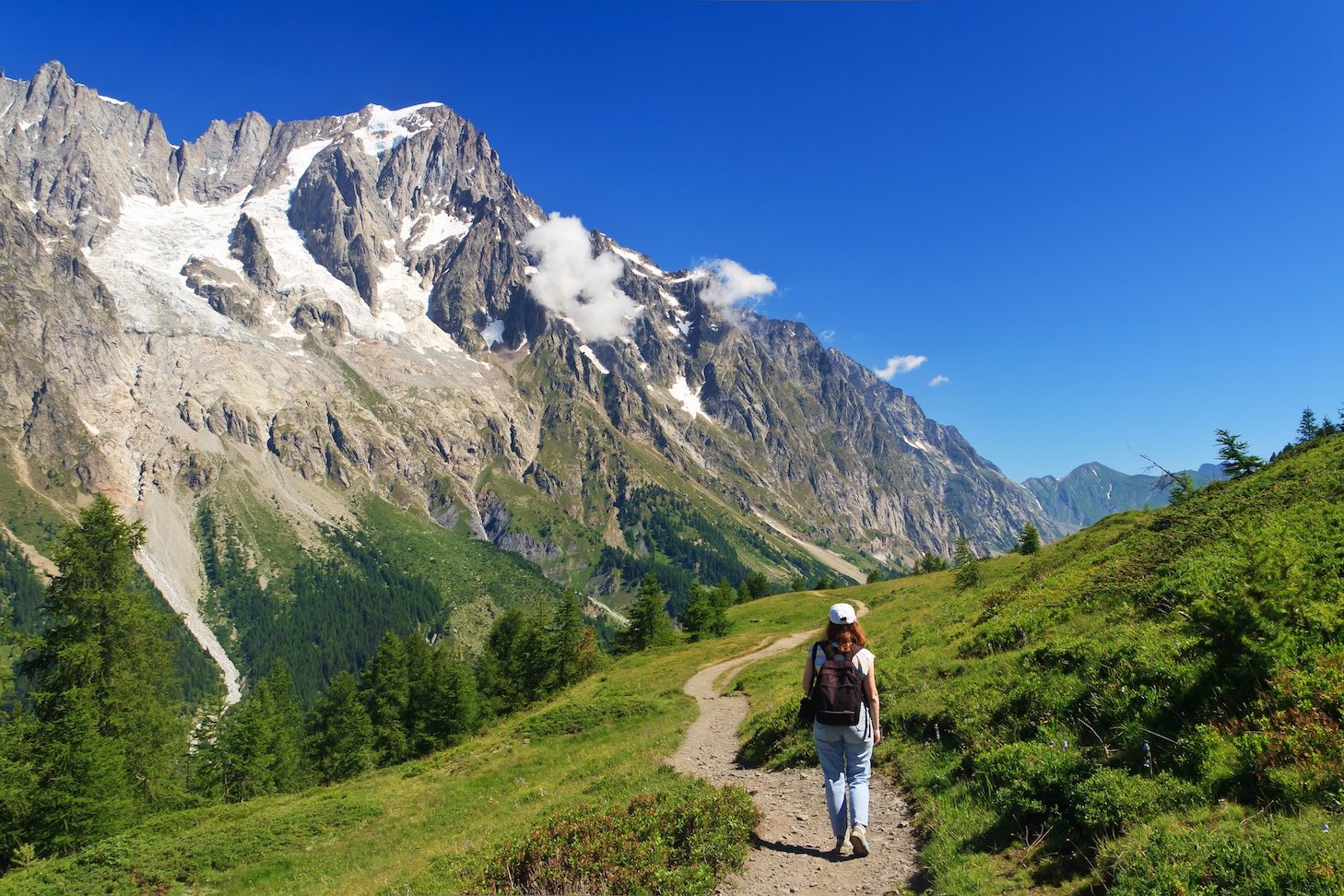 Pré Saint-Didier
Pré Saint-Didier, a village near La Thuile, has been a spa town since Roman times. Its modern exploitation, complete with a casino, goes back to the 19th century when spa towns were all the rage in Europe. Famous for its ferrous qualities, the thermal waters are said to be relaxing and good for rheumatism and skin troubles. The modern thermal establishment, QC Thermes, is luxurious in a cosy Alpine way. For children, Pré Saint-Didier is famous for its Parc Aventures Mont-Blanc, a fun family-orientated park full of fun activities.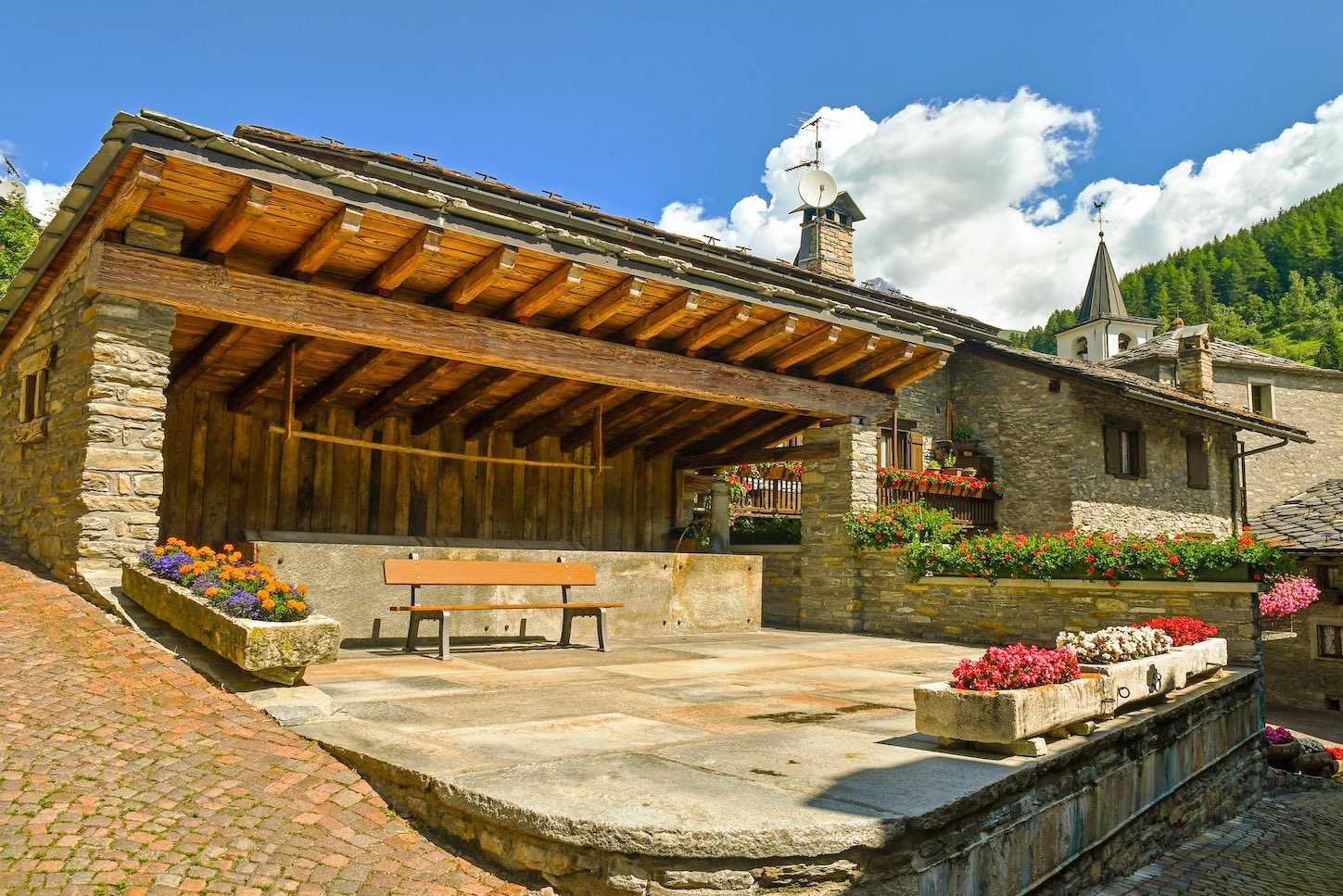 Forte di Bard
The Fortress of Bard (Forte di Bard) – the main reasons to visit this mountain citadel that dominates the roads into France and Switzerland are the views of the Aosta Valley, and the Alpine Museum, which displays the history and culture of the Alpine Valleys and mountains in a playful and interactive way.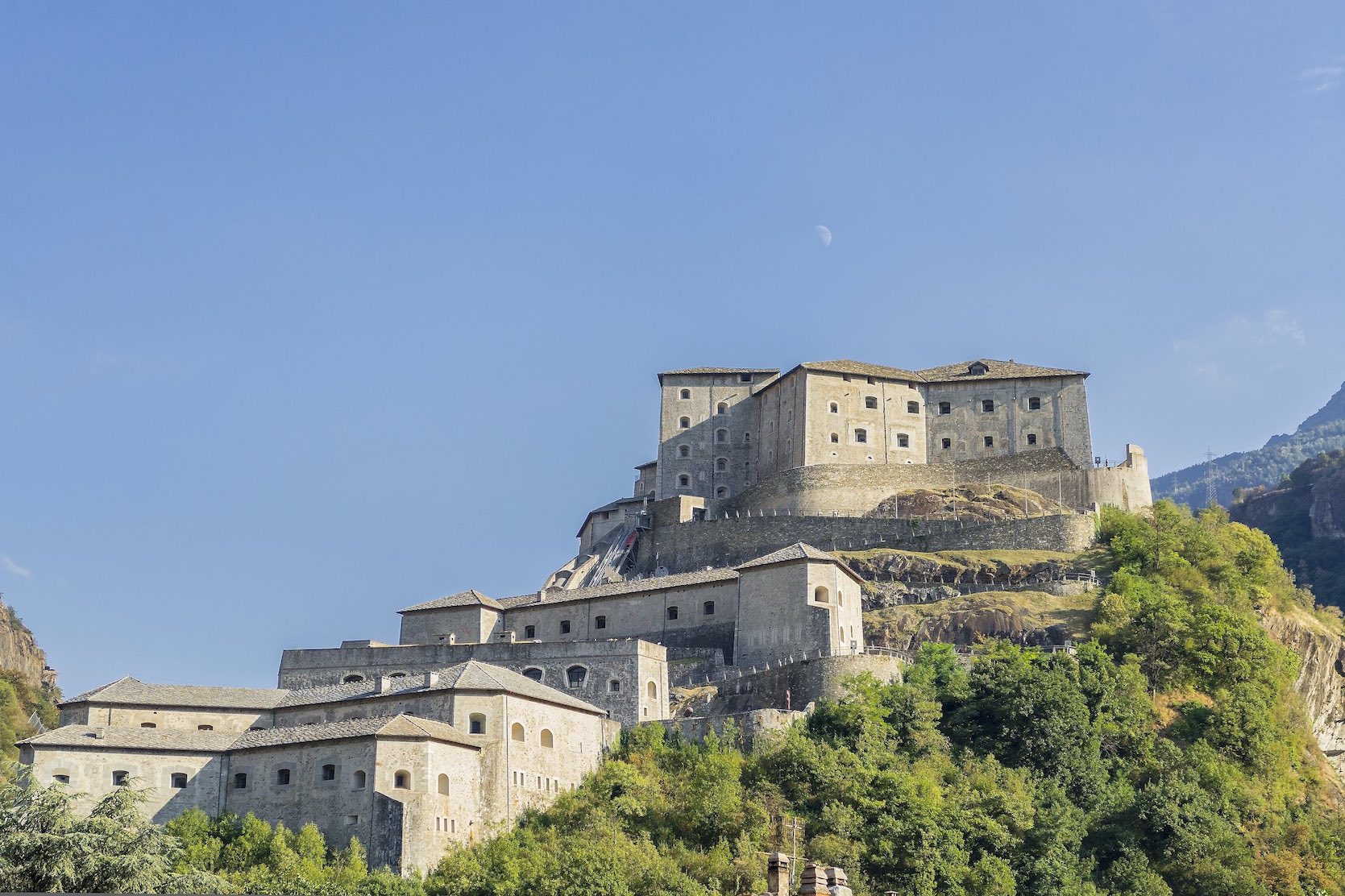 Castles of Aosta Valley
The castles of Aosta Valley – mediaeval Aosta is well preserved in these large stone castle, built to last and that stood the test of centuries of intense weather, wars and time. Amongst them are the two Châteaux d'Arnad, dating to the 12th and 17th centuries (only the lower château is open to visitors); the pentagonal Château de Fénis, an ancient manor house. Other châteaux worth a stop: Châtillon, Aymaville, Verrès, Pont Saint-Martin.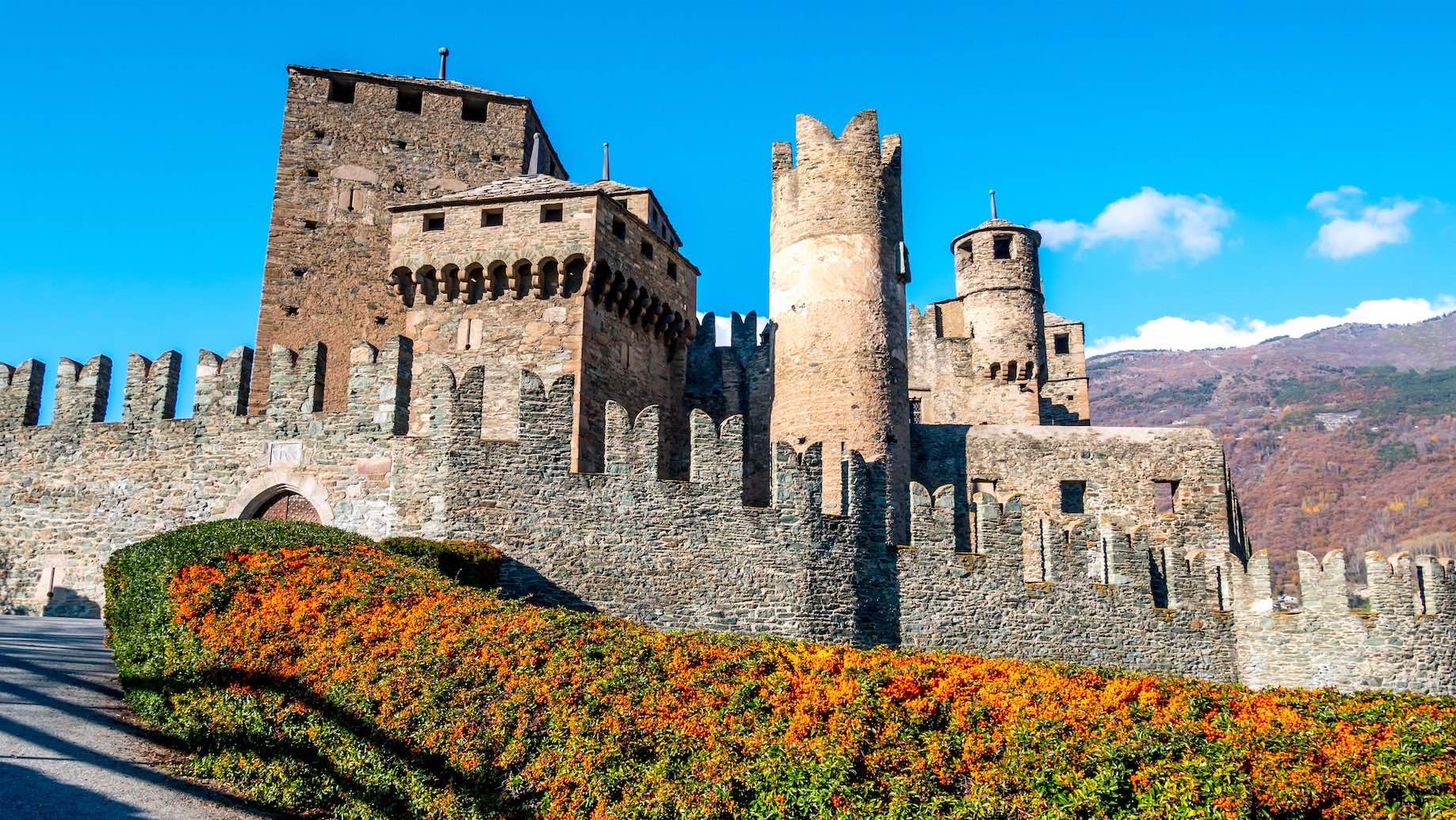 Astronomy Observatory
The Observatory. Built in 2003, the Astronomy Observatory of the Aosta Valley is open to the public as part of an educational drive. Its chief purpose is space observation, and it is a working observatory. It links to a Planetarium next door. Both are fascinating to visit and discover for children and adults alike. Who knows, maybe a visiting child will be tomorrow's astronomer.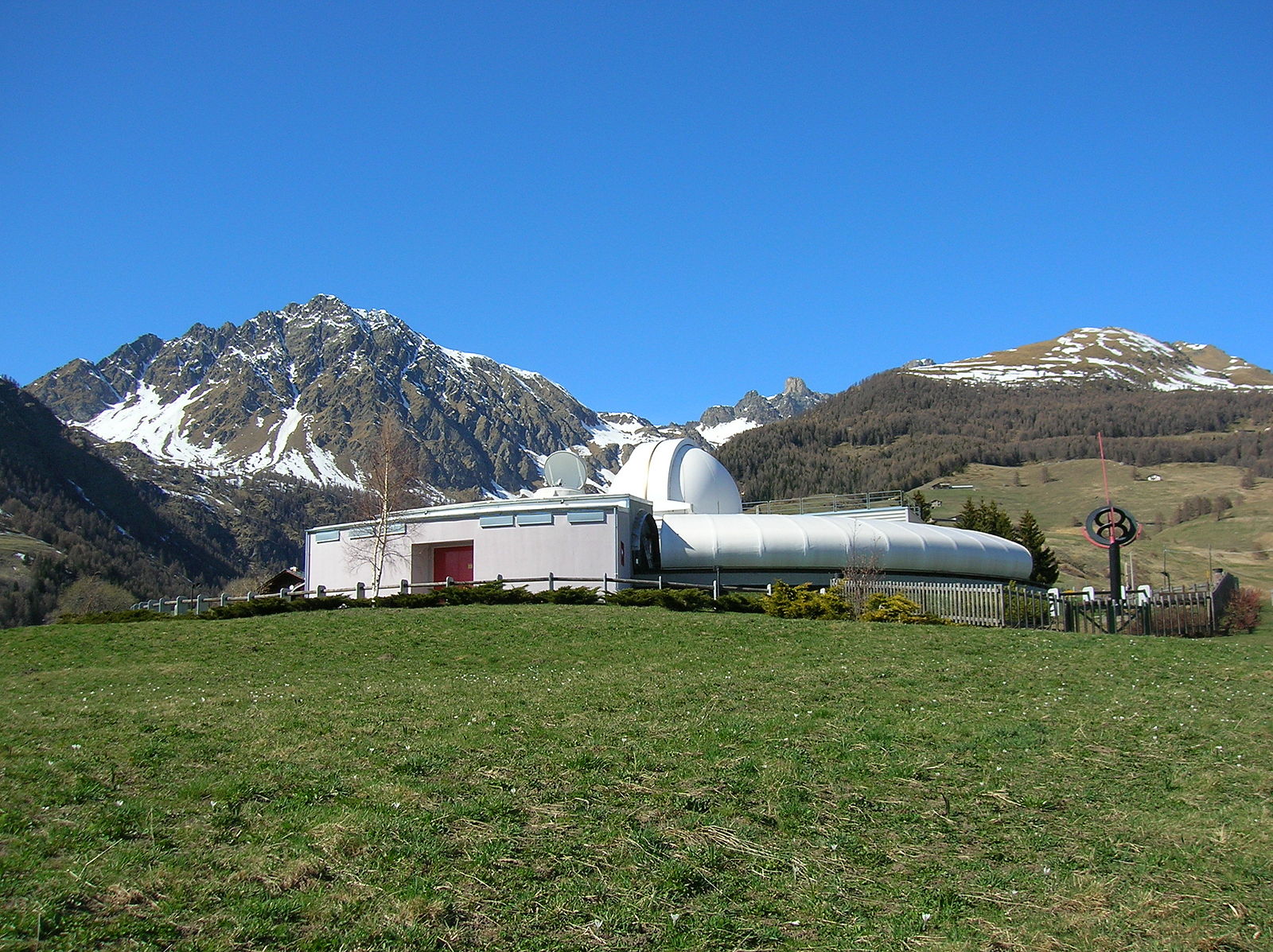 City visits
The Valley's capital is Aosta, the ancient Roman Augusta Prætoria Salassorum, a small city of 35000 people in the region's centre. There are Roman remains throughout the Valley, but Aosta has the most interesting, including nearly intact city walls, a bridge, a Roman theatre, the Arch of Augustus (outside the city walls), and a Roman aqueduct nearby known as Pont d'Aël. It also has a 4th-century cathedral (remodelled in the 11th century), the Romanesque church of Sant'Orso and an impressive series of former guard towers.