Bestowed upon with breathtakingly pure gorgeousness, New Zealand is a spectacular holiday destination that occupies a relatively small landmass in the far reaches of the map.
Boasting a diverse topography consisting of rivers, mountains, lakes, and forests, it has, over the years, transformed into the world's leading adventure capital. 
In New Zealand, thrill-seekers can indulge in extreme encounters on water, land, and the air. Moreover, with safety given the highest importance, the country's many adventure sites are ideal for first-timers wishing to experience hair-raising excursions. 
From the classic bungee jumping and the ethereal blackwater caving to the laugh-out-loud riot that is zorbing, here are the seven must-do adventure activities in New Zealand. 
Bungee Jumping
Many believe that bungee jumping takes inspiration from Naghol, the land jumping ritual of Pentecost Island. The first known bungee jump, though, took place in 1979 over the Clifton Bridge in Bristol. Still, the credit for commercializing the sport goes to New Zealand. It is here that people have been paying and jumping off Kawarau Suspension Bridge since 1988. 
Consequently, bungee jumping is the quintessential must-do adventure activity in New Zealand. Furthermore, the country provides a diverse set of bases from where daredevils can take a leap of faith, safely tied to a bungee cord, of course. 
These days, some of the best-known sites to bungee jump in New Zealand are the Auckland Harbour Bridge, over Waikato River, and the Nevis River Valley. 
The Waikato River bungee is 47meters high, and you can enjoy solo as well as tandem jumps. The operators at the location also offer a chance to swing over the river, which is slightly more nerve-wracking. On the other hand, at 134 meters, the Nevis platform is the highest bungee jump in New Zealand and is a true test of one's fearlessness.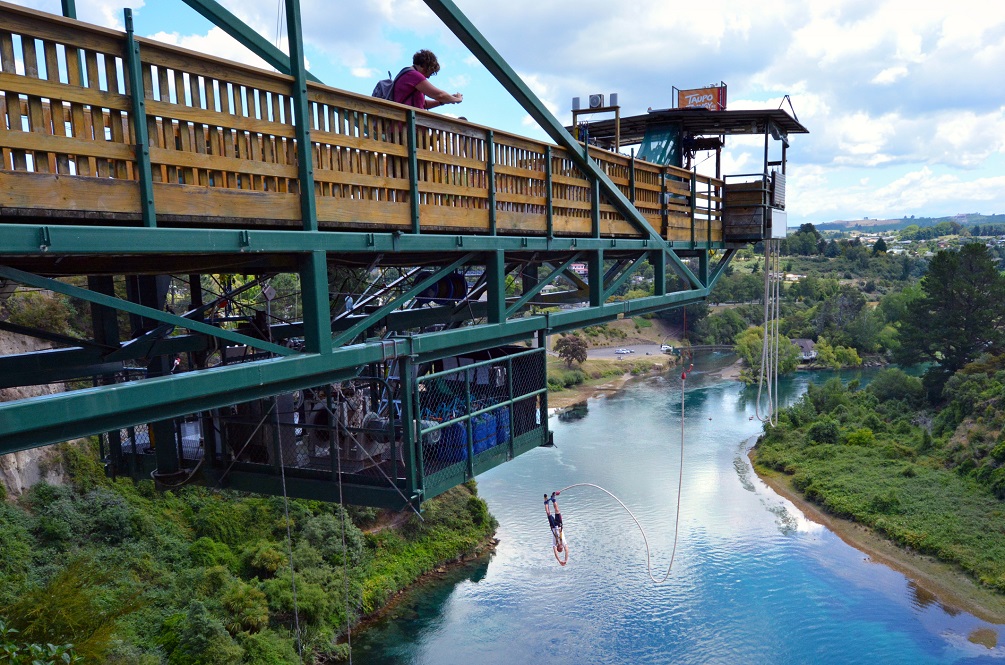 Heli-Skiing
It doesn't get any more luxurious and exclusive than taking a helicopter to the top of a mountain and then skiing down it. In fact, the very thought of exploring uncharted territories and sliding at incredible speeds on powdery white snow is sure to send waves of excitement through the minds of adrenaline junkies. 
With awe-inspiring beauty all-around, a day of heli-skiing typically comprises two ski jumps, lunch, and a professional guide to help you navigate through all the basins, flanks, and chutes. Moreover, since the helicopter can drop skiers and snowboarders at great heights, the terrains are typically treeless, resulting in an unadulterated ski experience. 
The time between June to September is ideal for partaking in heli-skiing. Wanaka and Queenstown have several heli-skiing options, granting access to well over 500 runs across ten mountain ranges.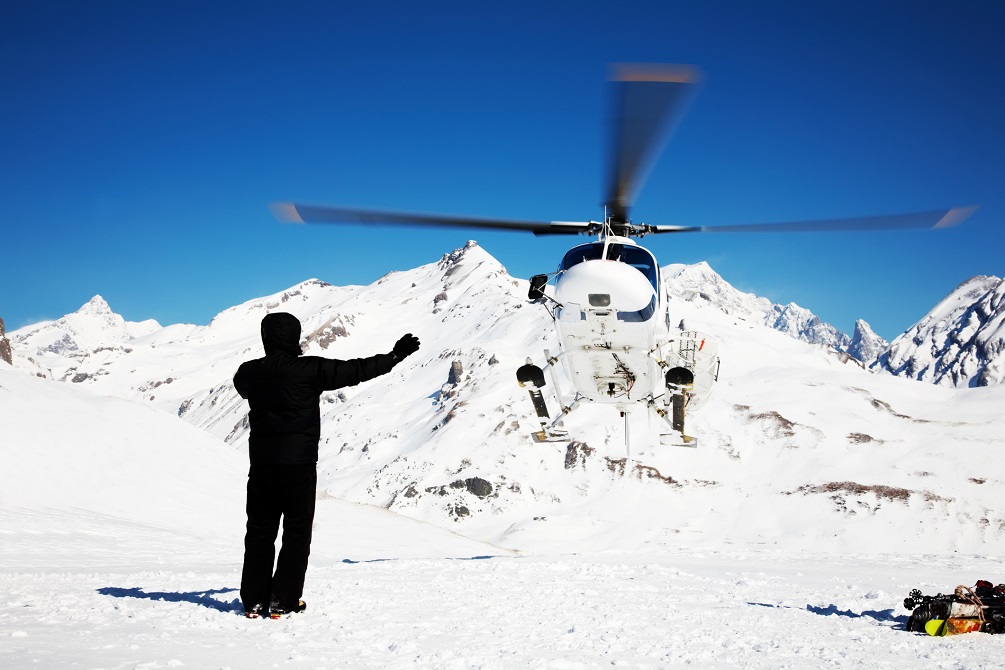 Blackwater Caving
It might be dark and cramped, but blackwater caving is among the most heart-pumping adventure activities to do in New Zealand. 
The excursion has participants dressed in wet suits, entering a labyrinth of hauntingly beautiful caves. As they descend, they get to witness an unmatched spectacle. Ceilings lit up by blue glowworms, and stunning rock formations leave everyone in awe of New Zealand's natural wonders.
However, the thrill factor during the trip comes from climbing rocks, swimming or tubing in underground rivers, rafting, zip-lining, and sliding past waterfalls.
Blackwater caving tours last anywhere from three to five hours. Waitomo Caves in North Island are the number one choice for this activity. Travellers in South Island can experience caving around the Greymouth area.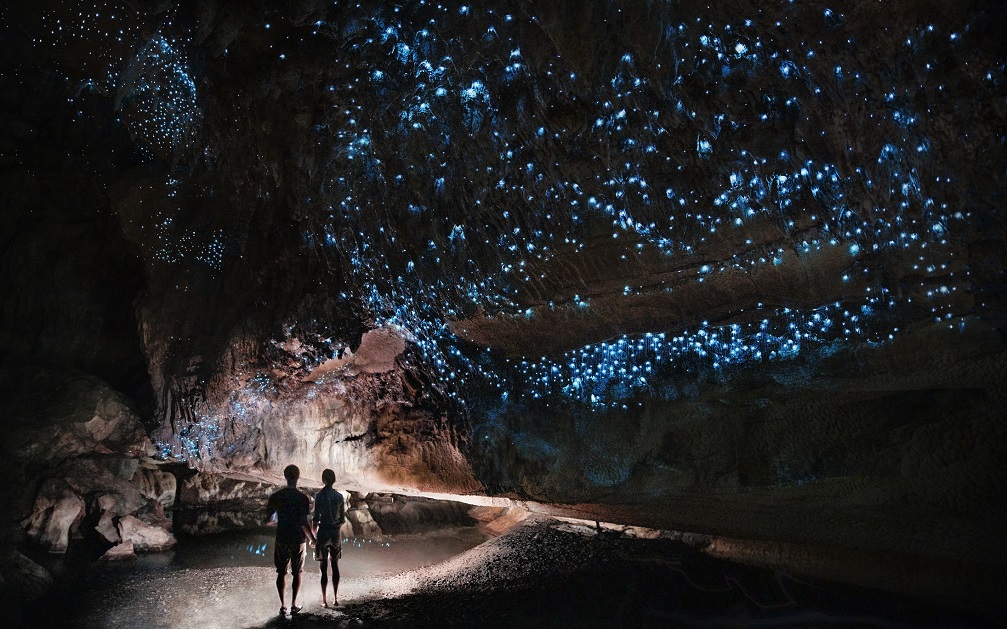 Jet Boating
Jet boats don't use motors. Instead, they propel water at a great force that pushes the vessel forward. The concept of a jet boat dates back to the 1950s when a local New Zealand farmer, needing to travel in shallow waters, came up with this inventive idea.  
Nowadays, jet boating is among the most popular adventure activities to do in New Zealand. A roller-coaster of a ride, jet boats have excellent manoeuvrability, making it easier to take fast and sudden 360-degree turns in them. As a result, it is the perfect opportunity to appreciate the natural wonders of New Zealand while partaking in an exhilarating escapade. 
Visitors can relish extreme speeding, down gorges and lakes, in both the North and South islands. Besides Christchurch and Queenstown, other famous places for jet boating are Lake Taupo, Rotorua, and Whanganui.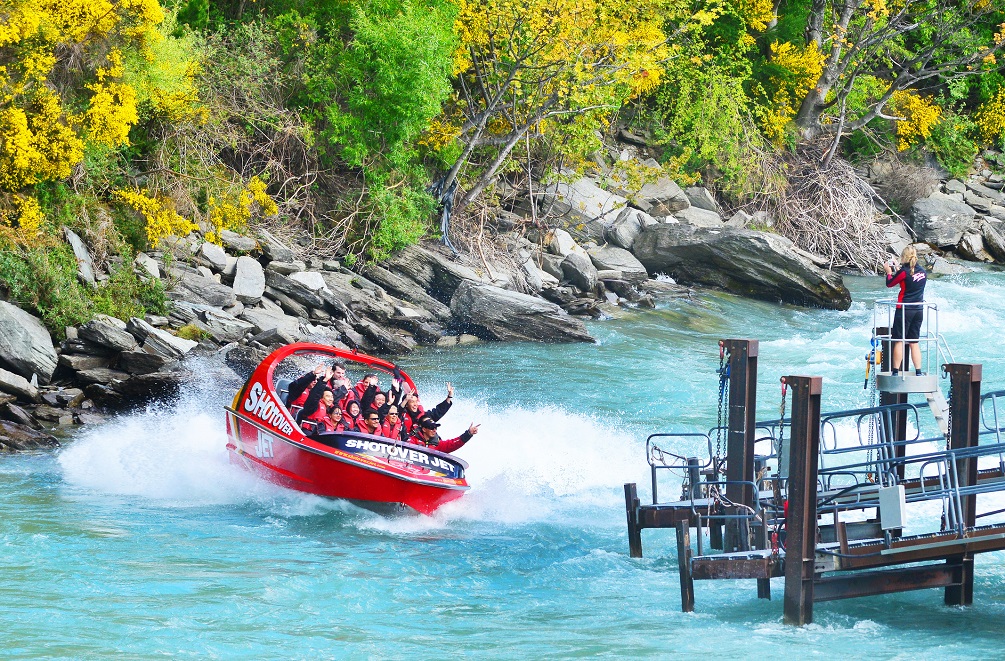 Skydiving
Skydiving is undoubtedly a popular sport among madcap travellers around the world. However, it is a must-do adventure activity in New Zealand owing to the country's distinct geography. 
Brave souls taking the plunge from 9,000 to 13,000 feet are privy to visually spectacular bird's eye views of snow-capped mountains, sandy beaches, glacier lakes, deep valleys, and lush plains. 
Skydiving packages in NZ are available for first-timers who can take a tandem jump with professionals. Prices vary based on inclusions. However, don't forget to get a video and photos taken during this once-in-a-lifetime experience. 
Visitors can enjoy skydiving in different places across the North and South islands. Among the top locations for this free-falling event are Tauranga, Pukaki, and Lake Wanaka.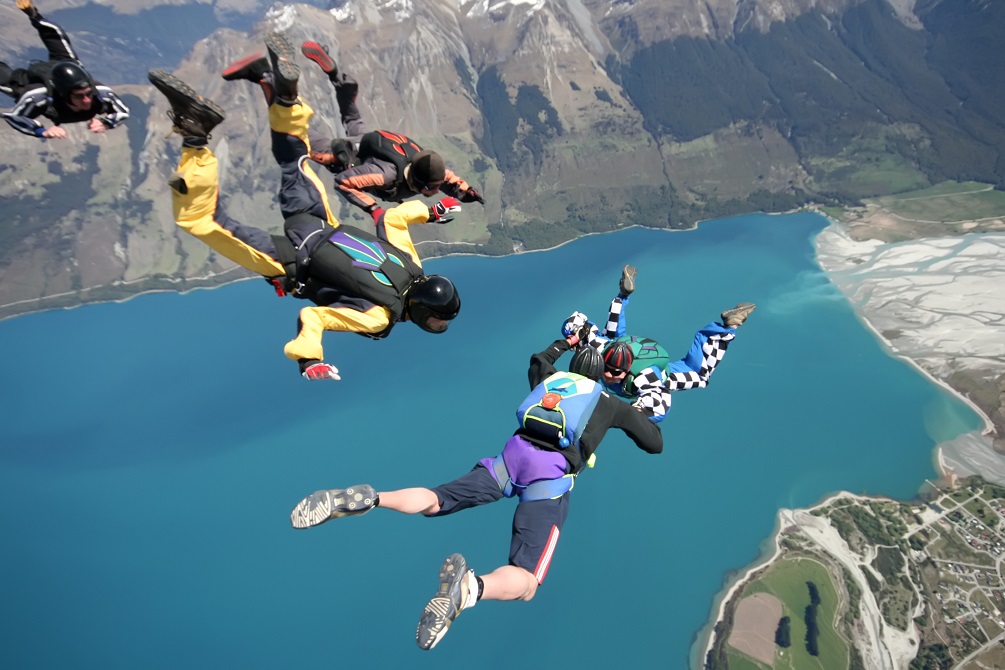 Canyoning
Canyoning is somewhat equivalent to blackwater caving, albeit without the darkness and the claustrophobic surroundings. Even a few hours of canyoning promises a chance to experience nature in its rawest and wildest form, making it one of the most loved adventure activities to do in New Zealand. 
Canyoning tours consist of multiple actions, ranging from swimming in rock pools and sliding through gaps to abseiling down hidden waterfalls and jumping off cliffs. 
All the more fun when done with a group of friends, full and half-day trips usually include protective gear, a guide, and a lunch break. Among the best places to enjoy canyoning are Gibbson Valley, Doom Creek Canyon in Nelson, and Piha Canyon near Auckland.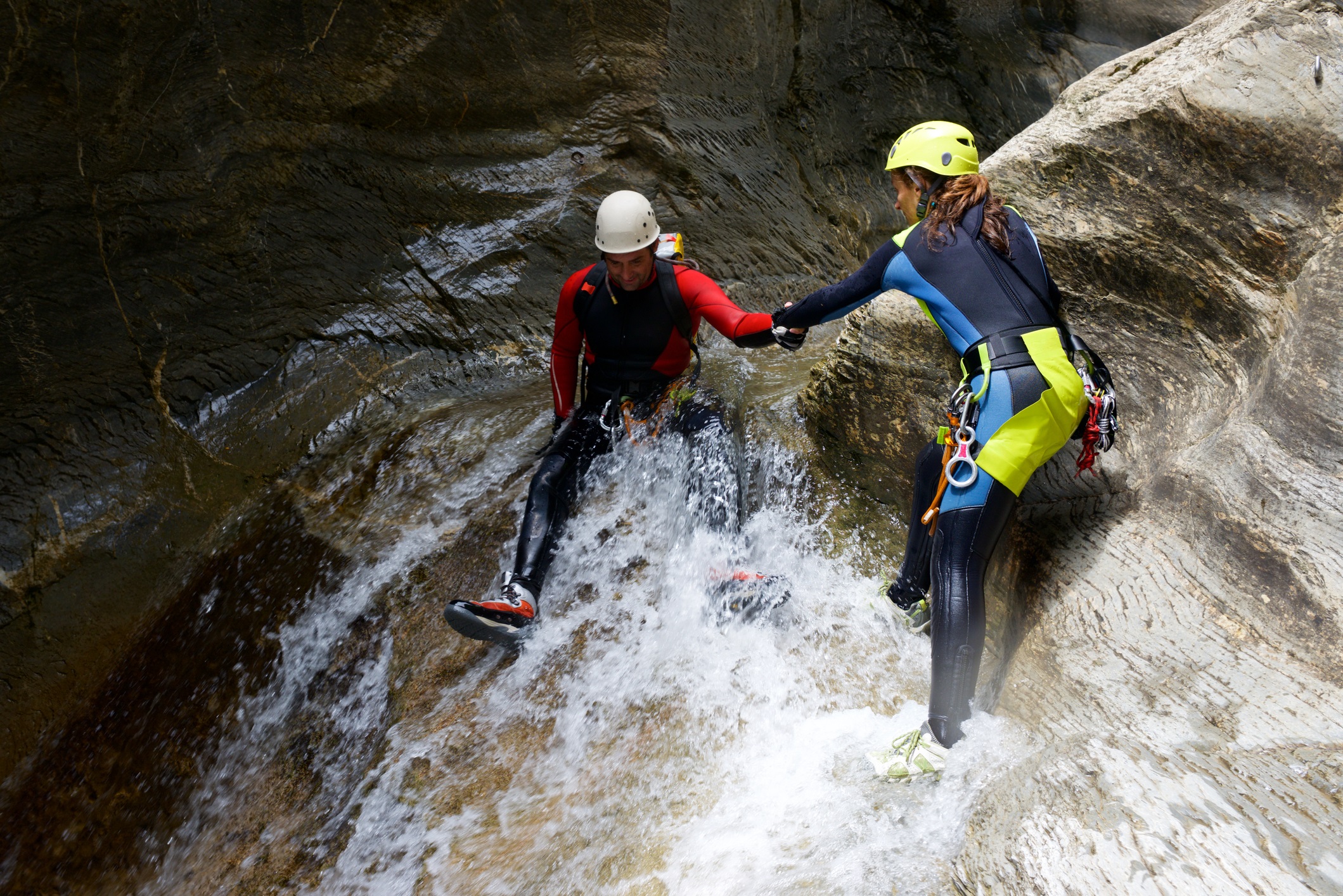 Zorbing
Another island invention, zorbing, originated in Rotorua, where Andrew and David Akers came up with the idea of putting people inside a giant transparent plastic ball and pushing them down a hill. Although zorbing is not an extreme sport, over the last 25 years, it has become a favourite with fun-seekers of all ages. 
There are two variations of zorbing. One involves individuals or couples entering a dry ball, whereas the other possibility is a ball filled with water inside. Either way, you can expect a head-over-heels tumbling ride that will have you screaming and laughing with joy. 
OGO Rotorua continues to be the epicentre of zorbing in New Zealand. The park has the largest downhill zorbing track in the world. Moreover, OGO has a sidewinder course with several turns that adds to the excitement of wheeling down slopes.