A cruise vacation is among the most novel ways to see the world. A ship, after all, is an all-in-one mode of transport. It takes you to a new destination every day of your holiday. Moreover, the boat doubles as your hotel, offering accommodations that come with every possible amenity that a modern-day traveller requires.
The magic of a cruise holiday doesn't end at this point. In fact, the biggest attraction of any vacation on the seas is the range of facilities on board the latest cruise liners. From 24×7 dining options, waterparks, and zip-lining to grand theatrical productions and plentiful sporting action, there is much to do on a ship during sea days.
However, the sheer magnitude of entertainment, as well as food and drink possibilities, can prove to be intimidating. Furthermore, while exciting, life on a boat comes with its own set of limitations and rules. Therefore, before heading out to explore the open seas, make sure you read the following cruise tips for first-times for a stress-free and enjoyable trip.
Pick the right cruise
As with any holiday, cruise vacations come in all shapes and sizes. For instance, you can book a week-long cruise where the ship stops at a new port almost every day. Then there are tours where the sea to port day ratio favours the former, allowing you to enjoy onboard facilities fully. 
The other aspect to remember when booking your first cruise is the overall vibe of your vacation. Every cruise has a predominant theme that forms the basis of the trip.
Cruises range from romantic or family-friendly to party boats or more scenic sailings like the ones in Alaska. A family-centric Disney cruise, for example, places children in the front and centre of every activity. Thus, it might not be an idyllic choice for honeymooners wanting an intimate escape. 
So, before booking, do a little research on the places you are visiting and attractions on the ship to see if they cater to your vacation needs.
Select a quiet cabin
Your cabin choice will depend on several factors, from availability to cost. However, when given the option, it is important to spend a little time understanding the ship's layout to pick the best cabin possible. 
A typical mistake first-time cruisers make is booking a room closer to entertainment venues. The thought of being near prominent attractions and not having to walk much is quite enticing. While ships are monstrous creations, you do get used to it after a day or two on board, and distances don't seem that long anymore. 
Therefore, an excellent cruise tip for first-timers is not to book a room next to traffic-heavy places that include the casino, theatre, or an elevator, for that matter. Moreover, the further you are from common areas, the more restful and noise-free night you will enjoy at the end of an eventful day.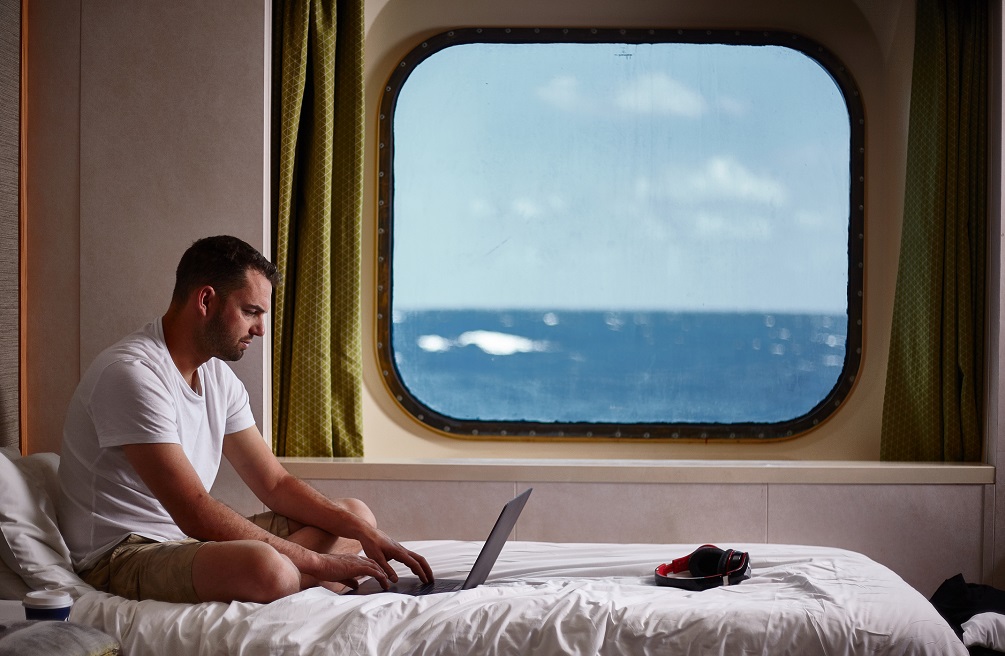 Bring a carry-on
The first day of your cruise vacation can be a little hectic. There are boarding procedures, baggage tagging and check, registration, finding your cabin, and settling into your new space. These events take time and can be troublesome, especially for little children. Furthermore, unlike an on-land hotel, your luggage arrives at your room much later in the day.  
Thus, one of the essential cruise tips for first-timers is to bring a carry-on for the initial day of your voyage. Inside the bag, pack a change of clothes, some snacks, water, medications, a swimming suit, diapers, and other necessary items you might need.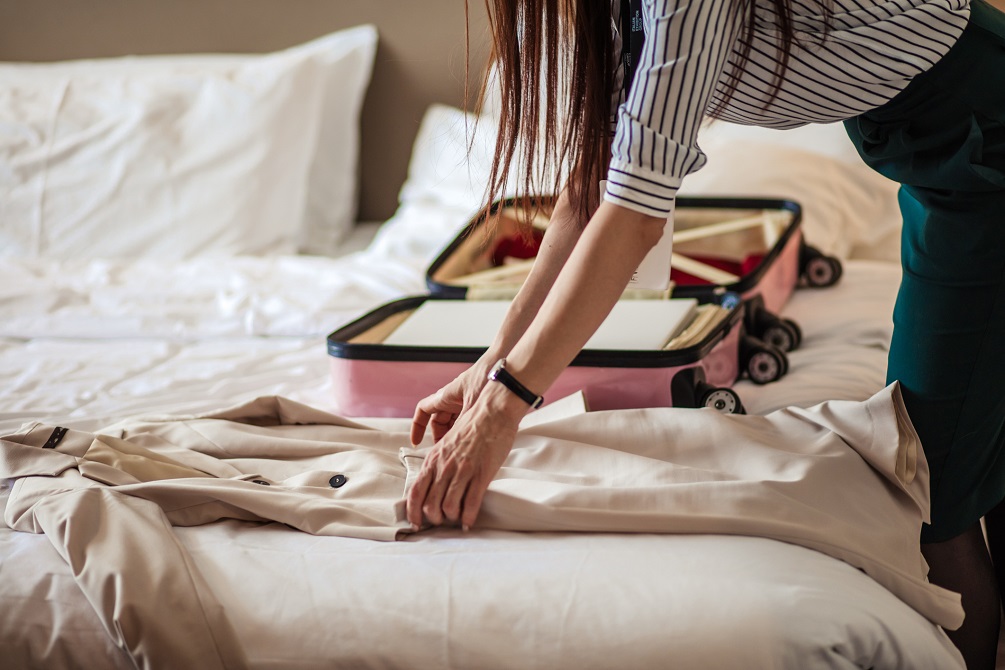 Pack smart
Since we are talking about packing, another one of the essential cruise tips for first-timers is to pack smartly. Keep things light and limit the total number of bags you bring on board. Ship cabins are typically small, leaving you with very little space to store your luggage. 
However, do not forget to bring a few essentials such as sunscreen, body lotion, and over-the-counter medications. And it's also a good idea to bring sea-sickness pills even if you typically do not get seasick. While readily available, these everyday commodities sell at a premium price on the shi.
Plan your day
Mornings on a cruise ship typically begin with the arrival of the daily newsletter. The in-house publication includes the entire day's happenings around the boat. Activities can consist of sports competitions, movies, live shows, music events, cooking classes, and pool games. In short, a lot happens on the ship every single day. 
At this stage, do not get overwhelmed with the options. Take a moment to plan your day. Several of the events will take place again during the course of the voyage. So, give preference to the exclusive happenings while factoring in time to eat and relax. 
Basically, don't let FOMO (Fear Of Missing Out) dictate your choices. Instead, focus on savouring the moment, even if it involves spending hours sunbathing on the top deck, reading a trashy beach read.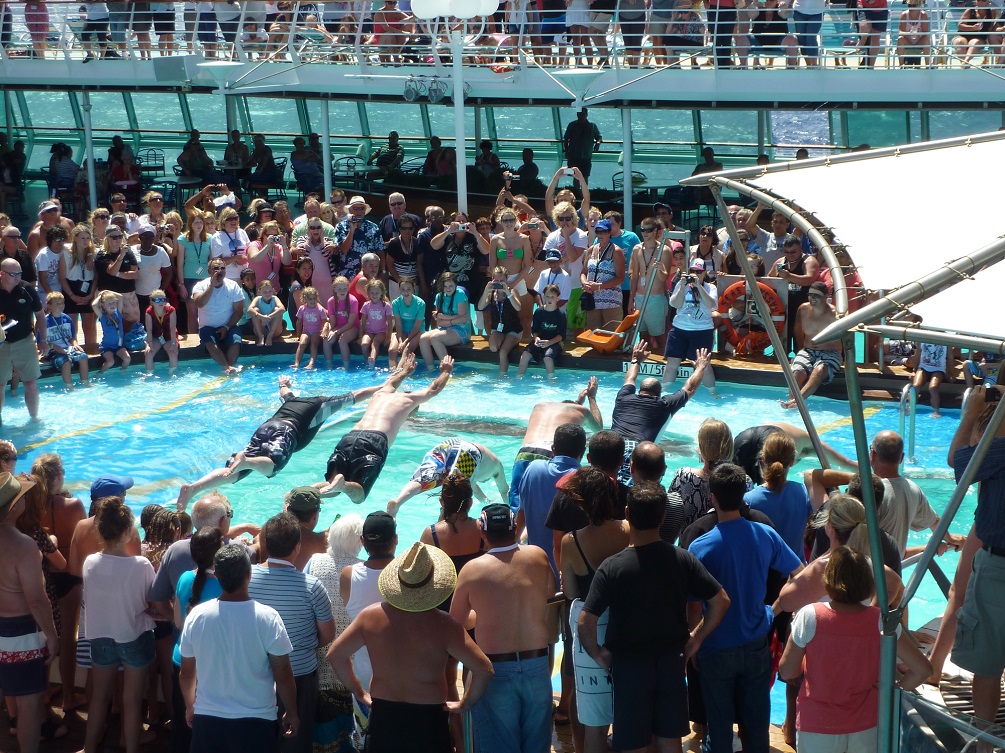 Watch your expenses
Cruise companies make it really easy for passengers to spend money on their boats. Although a cruise vacation is typically all-inclusive, you still need to pay extra for alcoholic drinks, shore excursions, shopping, gratuities, and meals in speciality restaurants. Payment for all of the above is instant, done seamlessly through your cabin entry card or an armband. 
Thus, one of the vital cruise tips for first-timers is to keep tabs on your expenses on board. Be aware of the extra costs at all times and regularly check your ship account during the voyage to stay within budget.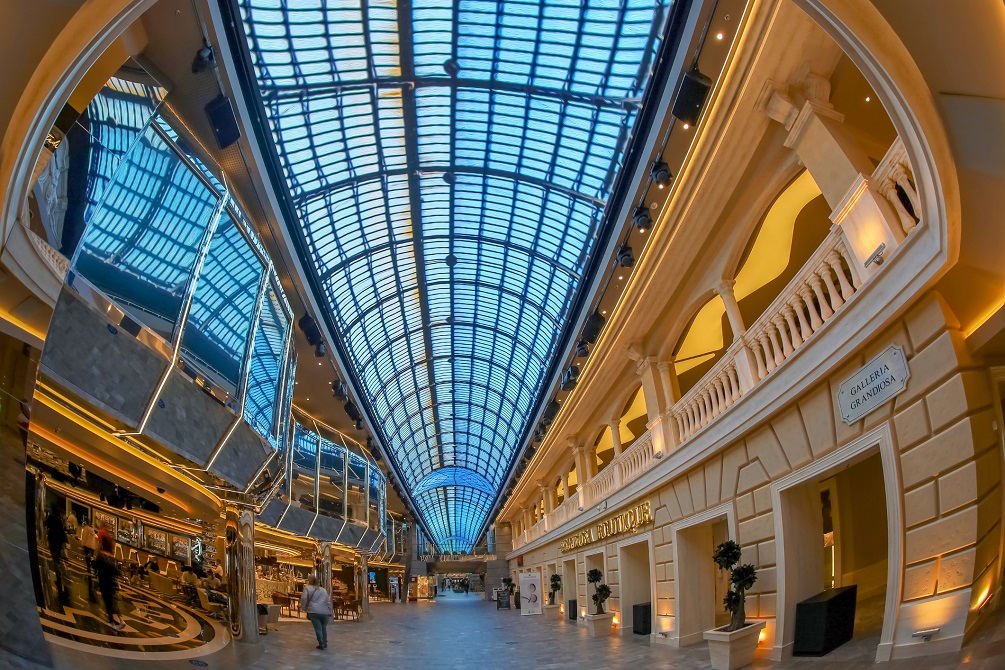 Always be on time
Cruise ships do not wait for passengers. Ships will leave even if you are late by a few minutes, whether on the first day of the sailing or at any port stops. Embed this in your mind and make sure you reach the ship a good hour before its departure.     
Therefore, the one cruise tip to first-timers that regulars give is to arrive at your departure destination a good two days in advance. If everything is on schedule, use the days to sightsee. If there is a delay in your flight, for instance, at least you won't miss the boat. 
The "rules" get a little tricky on port days during the cruise. The ship will not wait for any passengers who went on shore on their own and did not return in time. However, the captain is responsible for you if you take a shore excursion through the onboard travel agent. So, if there is any delay during a ship-organized on-land activity, the boat will wait for you to return. 
Consequently, booking shore attractions through the cruise do have advantages. But also, among cruise tips for first-timers is the recommendation to reserve excursions directly with local operators or in advance through your travel agent. Why? Because more often than not, they are significantly cheaper. And to make sure you are back on the boat in good time, book the morning slot to be back much before the evening sailing.