A part of the four countries that make the Kingdom of Netherlands, Aruba is among the most famous holiday destinations in the Caribbean. The Dutch island is mainly known for its flat landmass and dry weather that promises sunny days throughout the year. 
Tourists island-hopping in the Caribbean often combine a visit to Aruba with a stopover in Bonaire and Curacao. Together these three destinations form the ABC group of islands.
A holiday in Aruba is a mix of adventure and relaxation. Visitors can enjoy miles of powdery white sandy beaches, savour delicious Caribbean-Dutch cuisine, go scuba diving, walk around the colourful capital of Oranjestad, and partake in the island's vibrant nightlife. 
Although Aruba is a popular cruise terminus, an extended vacation on the island is the ideal way to appreciate and experience all of its marvels. Making your stay comfortable are the best hotels in Aruba that range from ultra-luxurious beachside resorts to quaint boutique abodes brimming with character.           
The Ritz-Carlton
One of the most iconic hotels in Aruba, the Ritz-Carlton takes a prime spot on the world-famous Palm Beach. Offering top-of-the-line facilities, the hotel caters to every type of traveller, from professionals and large groups to couples and families.
Designed in contemporary style, using the finest furnishings, each of the 320 rooms and suites at the Ritz-Carlton grants sweeping sea or resort views. Furthermore, in-room conveniences include 46″ TVs, showers and baths, balconies, desks, and living spaces.
However, the joy of being in Aruba is to be out and about. Therefore, when not lounging on the beach, you can make the most of the hotel's many facilities, including two swimming pools. For children, there's a kid's club and plenty of areas to run around freely. 
On the other hand, adults can try their luck at the 24-hour casino or go in for a rejuvenating treatment at the 15000 square-feet spa centre that offers a fantastic hammock massage. Not forgetting gourmands, the Ritz-Carlton has six restaurants on-site, BLT Steak, an American favourite, being one of them.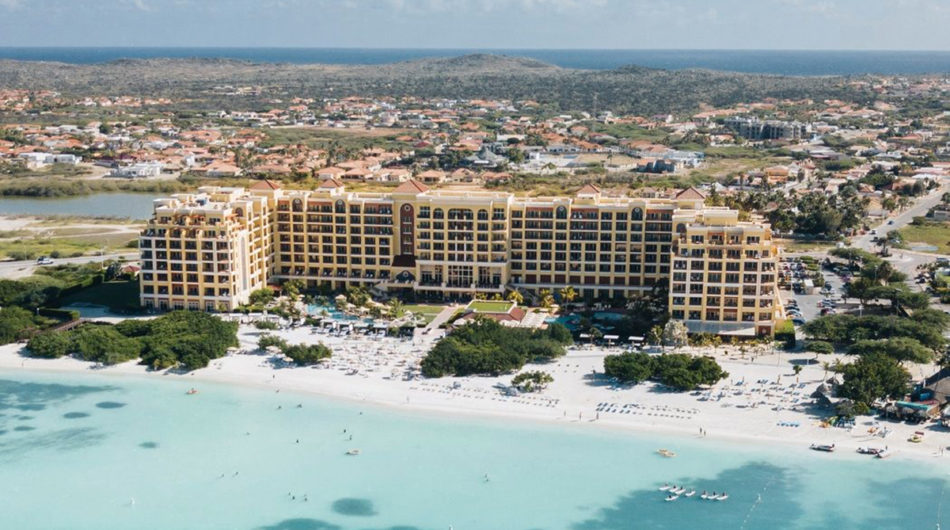 Aruba Ocean Villas
Aruba Ocean Villas might be a 30-minute drive from Palm Beach, but it is one of the most remarkable hotels in Aruba. The nine all-villa-property in Savaneta is, after all, the only accommodation on the island with overwater bungalows. However, out of the nine abodes at this adults-only resort, three are on the beach.
Setting aside the novelty factor of the guestrooms, the villas further celebrate island culture with their interiors. Mahogany furniture, thatched roofs, canopy beds, open-air showers, dining space, private pools, and jacuzzis help set the mood and build an intimate ambience. Since all the villas are individual in design, you can also stay in an eco-friendly residence that uses 100% renewable energy.  
The authentic charm of staying at the locally-owned Aruba Ocean Villas is the range of relaxing activities one can relish. There's the Sunday BBQ, massages over the water, plenty of outside seating, beach access, and live music and dance events. 
Not to miss, though, is a meal at the eccentrically named Old Man and the Sea. The in-house restaurant plates local and international classics in a romantic setting with cabanas over the water. However, the restaurant only has ten tables, making it essential to pre-book meals to avoid last-minute disappointment.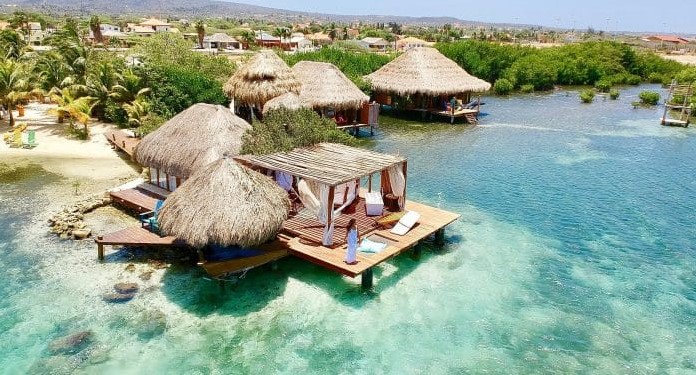 Photo credit to https://bigseventravel.com/
Boardwalk Boutique Hotel
Owned by sisters Kimberly and Stephanie, Boardwalk is one of the lesser-known yet fantastic boutique hotels in Aruba. Operational since 1989, the hotel now occupies what was previously a coconut plantation. But don't let its past dissuade you, for Boardwalk Boutique underwent a total refurbishment in 2019 to emerge as a stylish accommodation with a chic and vibrant vibe.
Having 46 pastel and sea-coloured casitas, Boardwalk is a soothing getaway only a three-minute walk from Palm Beach. The décor of the rooms shines a spotlight on island-living with gorgeous wallpapers, large windows to let sunlight in, and private patios. Every casita also has air-conditioners, a kitchenette, en-suite baths, free WiFi, and hammocks in the open.
A far cry from resort living, Boardwalk's adorable common areas further add to its seductive appeal. This gorgeous escape has two swimming pools, one with hammocks over the water and a pool bar. The staff can also arrange for spa treatments on-site, and the breakfast at Boardwalk is a healthy plant-based take on local cuisine.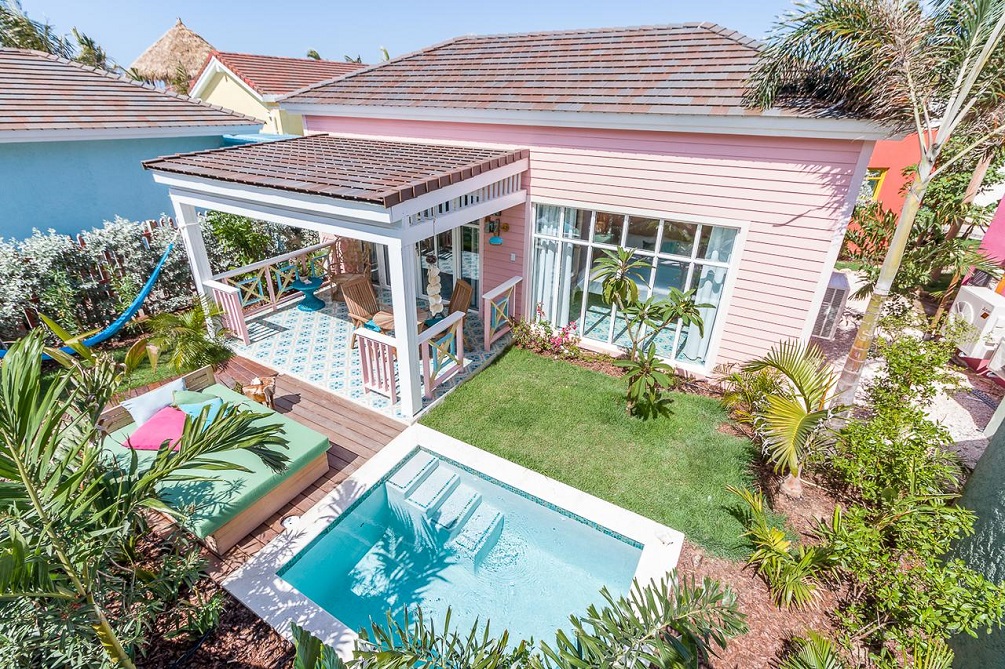 Photo credit to https://boardwalkboutiquehotelaruba.com
Wonders Boutique Hotel
The best boutique hotels in Aruba come with unmatched customized features that add to their persona. Wonders Boutique Hotel, 2km from Oranjestad centre, is no different. 
Situated close to Eagle Beach, the highlights of staying at Wonders is its swimming pool, fed by natural spring water. But if it is the beach you want, the hotel offers free shuttle service to both Eagle and Palm beaches daily. Moreover, this adults-only haven with a tropical garden is in a gated residential area, providing guests with a serene escape away from the bustle of the city. 
The 11 rooms at Wonders come with modern conveniences but at the same time create a homely atmosphere. Some of the amenities you'll find in the guestrooms are king-sized beds, TVs, en-suite bathrooms, air-conditioning, and free WiFi.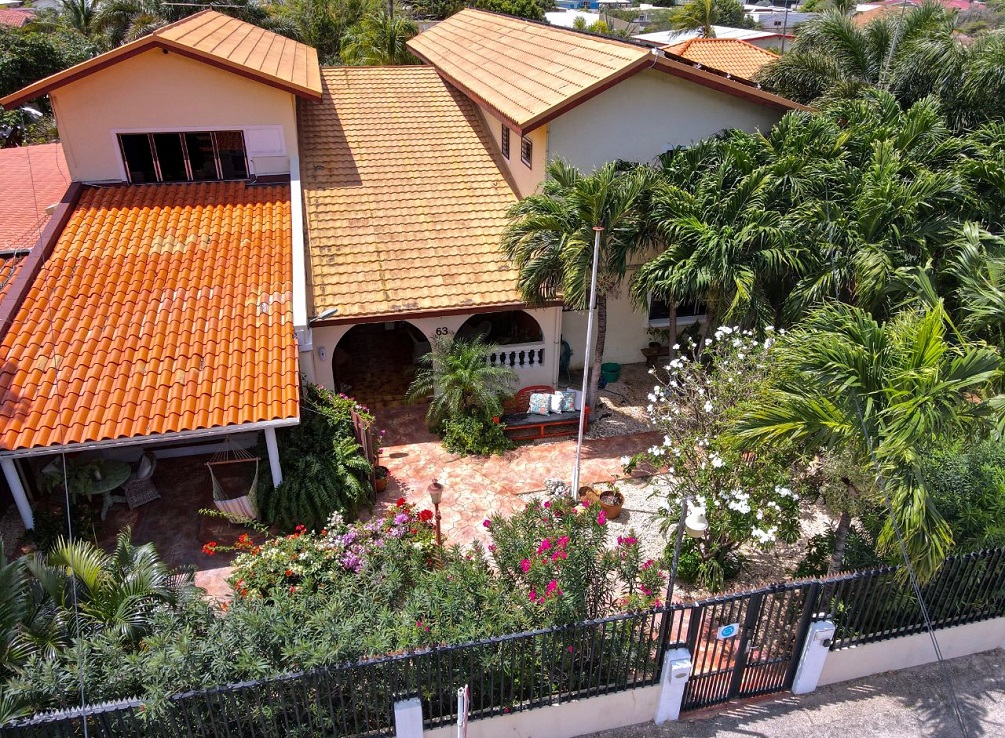 Photo credit to https://wondersaruba.com/
Manchebo Beach Resort and Spa
Over the last decade, there has been a tremendous rise in wellness travel. As a result, tourists are now looking for accommodations that create a harmonious environment which in turn soothes the mind, body, and soul. 
Manchebo Beach Resort and Spa is a sustainable wellness resort on Eagle Beach, ideal for couples looking for an oasis of calm amongst the beauty of Aruba. The 72 rooms of the resort have a defining island aura. However, its design features replicate modern-day ideas, creating cosy and convenient surroundings.
Guests staying at Manchebo can expect delicate soft-toned furnishings, rain showers, TVs, living spaces, and balconies in their rooms. They can also choose between ocean and garden view abodes. 
When it comes to amenities, Manchebo doesn't hold back. Its spa, gym, yoga, and Pilates classes provide that much-needed element of wellness. At the same time, the freshwater pool and beachside service amplify the hotel's laidback appeal. 
A favourite among food lovers, Manchebo has four restaurants serving world cuisines, from Mediterranean fare and a chophouse to Japanese and a beach grill. Gourmands, though, should look into booking their all-inclusive package that includes plenty of wine and food options.