A cruise vacation is unique in more ways than one. It's an opportunity to travel by a mode of transport that we usually do not use in our daily lives. But a cruise is not simply about moving from one point to another. It is, instead, a holiday on its own, one where you get to relish the journey as much as the cities and countries you visit along the way.
Cruise liners constantly attract wide-eyed passengers by offering new and innovative attractions. As a result, there is always much to do for all ages during a holiday sailing the seas. However, the most awesome things to do on a cruise are a combination of laidback and thrilling activities. Some of these cater to individuals, while others encourage passengers to mingle, creating an overall joyous and lively atmosphere on the ship.  
Go Ziplining
The bigger the ship, the more options there are in terms of genuinely exclusive attractions on it. Both Oasis of the Seas and Harmony of the Seas are two Royal Caribbean cruise liners that can accommodate over 5000 guests each. Truly mammoth creations, both the ships and many others like them come packed with features that are indeed out of this world. Ziplining in the middle of the ocean is one of them. 
The zip lining experience on Harmony of the Seas is a short affair. It takes only seven seconds from the start till the end. But then, it's something novel and definitely fun. On Harmony of the Seas, the zip line runs from the 16th deck to the 15th. It dangles passengers over the ship's boardwalk on the 6th deck. 
Because the activity is free, you can expect to wait in line no matter when you visit. Still, get there in the morning for a better chance. You do need to sign a waiver, and the zipline closes whenever the weather is a bit iffy. Still, the staff takes every precaution possible, making ziplining safe and placing it amongst one-of-a-kind things to do on a cruise.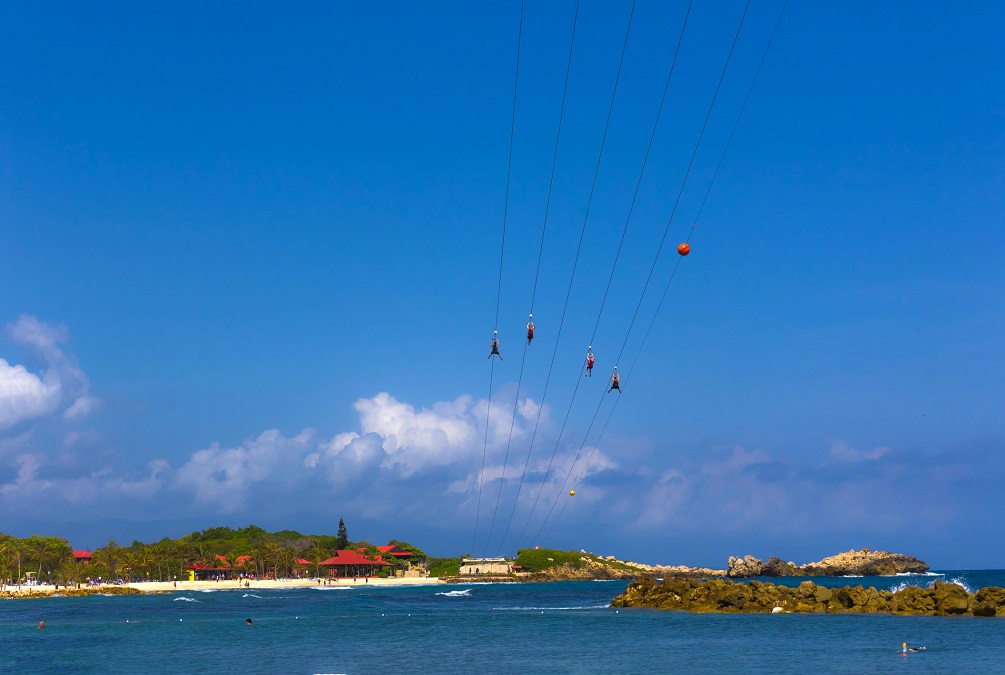 Participate in Friendly Competitions
Everyone enjoys a little bit of healthy competition. Having people from around the world holidaying together, a cruise ship thus becomes the perfect "battleground" to show off your expertise.  
Quizzes are common almost on a daily basis and take place all over the ship. However, topics are as diverse as the passengers on board. There will at least be one quiz on facts about the boat you are on, so prepare for that. Others can be about movies, music, books, sports, etc. 
Karaoke and singing competitions also draw in large crowds. Princess Cruises hosts a "voice of the ocean" competition. In it, judges randomly pick participants, coach them, and then have them compete in front of an audience. 
Those looking for physical activity can indulge in various sports competitions. Mini golf, basketball, cricket, water games in the swimming pool, the choices are unlimited when it comes to sporty things to do on a cruise. The Royal Caribbean cruise line also has surfing competitions since several of their ships have surf simulators.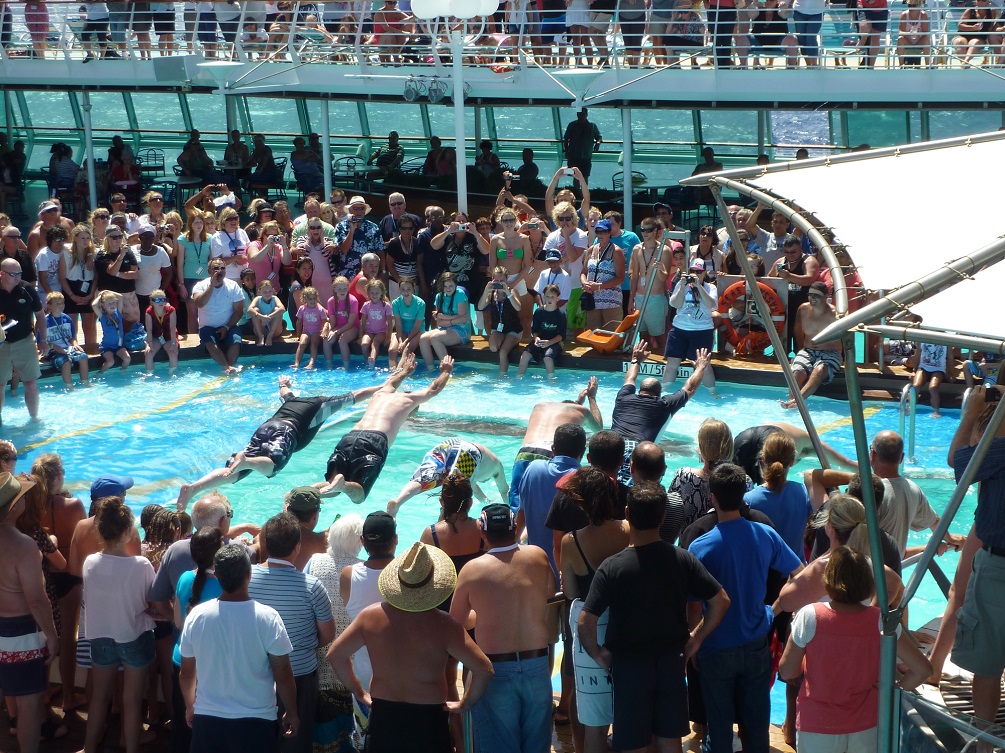 Pick Up a New Hobby
Cruise vacations are generally all-inclusive. But unlike on-land resorts, this doesn't just include food and board but also the chance to participate in a world of on-ship activities. Therefore, among the best things to do on a cruise is to make the most of your time on sea days and learn something new.
Cruise ships offer a number of beginner classes and teaching events during the entire holiday. Almost all cruises have cooking classes. Holland America even has a culinary arts center where the audience can watch and learn from chefs in action. If food doesn't interest you, learn the basics of photography, free of cost, through courses that include taking and editing digital photos.  
A popular hobby that many dabble in for the first time on cruise ships is dancing. You'll find dance classes for a variety of forms, from ballroom and jazz to samba and hip-hop. And if your partner is not up for dancing, go on your own. There is always someone to pair up with within the class.
Other popular hobbies to start on a cruise include astronomy, wine appreciation followed by tastings, maritime navigation, and learning a new language.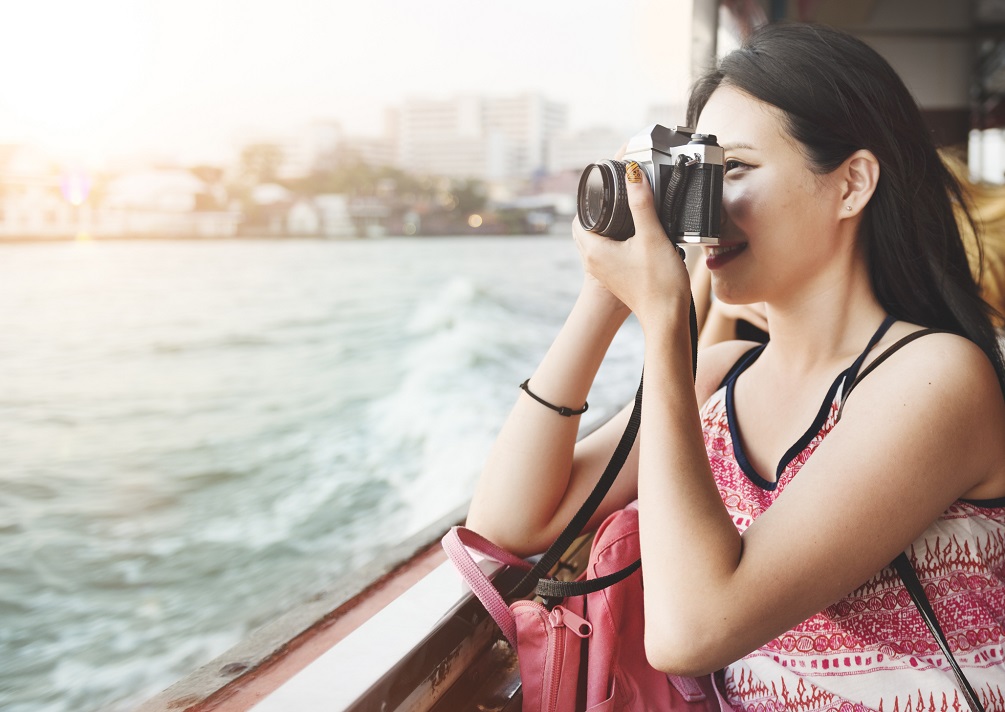 Attend an Art Auction
Art galleries are nowadays a standard feature on cruise ships. Most sailing companies collaborate with art dealers, who then set up an onboard shop displaying a curated collection of paintings and sculptures. Passengers can visit the gallery at leisure and buy the pieces they find interesting. While a lovely way to spend an hour, this doesn't have the same excitement as an art auction.
Thus, art auctions are slowly gaining traction on cruise ships. Typically held in the afternoons and open to all passengers, one can participate in an auction just to experience the excitement that engulfs it. For many, the complimentary champagne plays a big part in the decision to attend.
A vital thing to know about cruise ship auctions is that the art of offer isn't technically "original." Most paintings you will bid on, after registering, are high-quality inkjet prints known as giclée. They tend to have some form of embellishment, ranging from artist signatures to paint brushstrokes that make them special editions of the original art piece. Prices differ significantly, with some paintings costing a few hundred dollars while others tens of thousands of dollars.
Park West Gallery is a leading cruise auctioneer with events on over 100 ships. Royal Caribbean, Norwegian, Disney, Holland America, and Carnival are the top cruise companies that regularly host art auctions on their boats.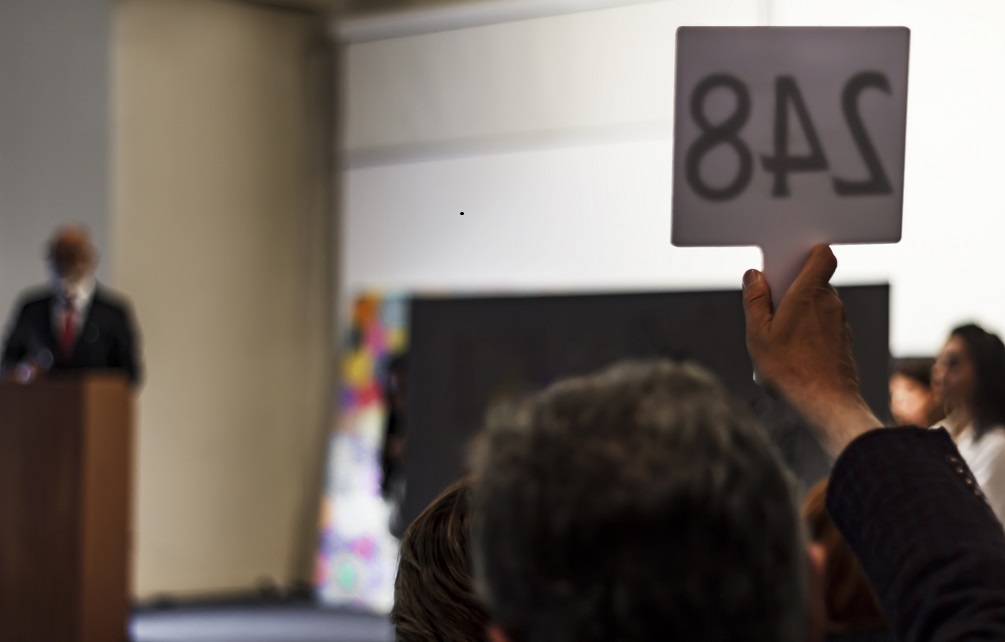 Enjoy Cinema on the Seas
Although streaming services have led to more and more people watching movies on their TVs or mobile phones, nothing beats the thrill of a cinematic screen experience. That's why most cruises hold movie nights on sea days. Being one of the family-friendly things to do on a cruise, it's an activity everyone gets to enjoy after an eventful day.  
However, since everything on cruise ships is grand, these movie nights occur either in the ship's auditorium or on an oversized screen on the main deck. The latter adds a sense of romance and drama to the evening as you get to watch your favorite movie stars while sitting under the sparkling sky. Moreover, you can watch the film sitting on a lounge chair, standing on the deck, or from a comfortable spot in the swimming pool. 
On-deck movie nights are a regular feature on most Royal Caribbean and Carnival cruise ships. The movies do get canceled if the weather is not favorable. But don't worry, there's either another venue already ready or, as we discussed above, plenty of other fun things to do on a cruise.